Classical
Classical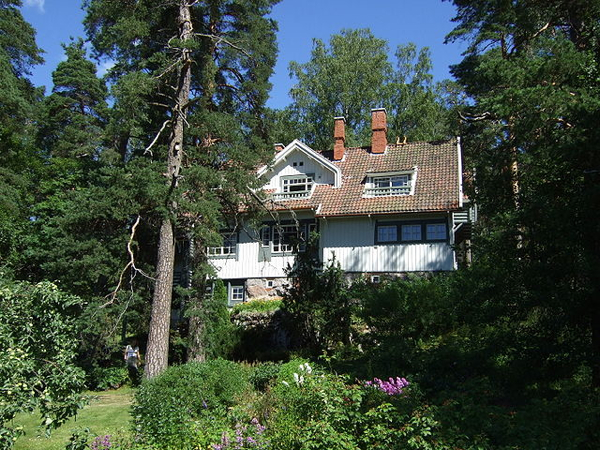 Symphony Preview: Daily double, Part 2
By Chuck Lavazzi
The St. Louis Symphony Orchestra (SLSO) offers you a chance to double your listening pleasure this weekend with two very different performances: a chamber music evening on Friday, November 5th, and a program of orchestral works by Sibelius, Shostakovich, and James Lee III on Saturday and Sunday, November 6th and 7th.  The two programs are linked only by the presence of violinist and conductor Nikolaj Szeps-Znaider, who sets aside the role of conductor for the role of violinist.
[Preview the music with my commercial-free Spotify playlist.]

For background on the Friday concert, check out Part 1 of this weekend's symphony preview. To find out more about what's in store for Saturday and Sunday, read on.
As the weather finally turns autumnal and the end of the dreaded Daylight Saving Time looms, it seems appropriate that the two big works on the SLSO program this weekend—Jean Sibelius's Violin Concerto and Dmitri Shostakovich's Symphony No. 5—are craggy, wintery, and dramatically dark.
Sibelius in 1913
By fi:Daniel Nyblin (1856–1923) -
What We Hear in Music, Anne S. Faulkner,
Victor Talking Machine Co., 1913.,
Public Domain, 
Jean Sibelius loved his native Finland, including its folklore and especially its landscape. Like Grieg, he was strongly inspired by nature. From 1892 until his death in 1957, Sibelius lived and worked in a home made entirely of wood (he didn't want to hear the sound of rain in metal gutters) on Lake Tuusula in the Finnish forest, where he often went for long walks. Indeed, this affinity for Finland's sometimes forbidding natural beauty informs much of his work. It's impossible to hear his music and not conjure up images of pines, snow, and brisk northern winds.
This is plainly audible in his Violin Concerto in D minor, op. 47. The violin was Jean Sibelius's first musical love. He began playing as a child and showed great promise as a performer, despite an elbow fracture that impeded his bowing technique. Even after it became clear that his real talent was for composition, he continued to play in chamber ensembles and even teach the instrument. It's no surprise, then, that the concerto—originally presented in 1904 and then, after a thorough drubbing by critics, in a substantially revised form in 1905—is both thoroughly idiomatic and incredibly demanding. The long solo passages in the first movement and virtuoso fireworks in the finale will test the mettle of the best performers.
Nikolaj Szeps-Znaider is, happily, no stranger to the Sibelius concerto, having performed it with (among others) the Cleveland Orchestra, the Mariinsky Theatre Orchestra, and the Berlin Philharmonic. More to the point for this weekend, he has also performed it with SLSO Music Director Stéphane Denève on the podium. "It is a piece we've done many times together," Denève notes. "He brings such richness of sound." Szeps-Znaider and Denève are close friends outside of the concert hall which, in my experience, often leads to an easy collaboration in performance.
Shostakovich's Symphony No. 5 in D minor had a more successful premiere than Sibelius's concerto. It also has a longer and more complex backstory, which is why I'm going to devote so much space to it. Indeed, it's possible that the Fifth saved not only the composer's career but his life as well.
When Shostakovich began work on the Fifth, he was in hot water with Stalin's regime. Stalin's rise to power marked a chilling of the intellectual atmosphere in the Soviet Union. All art was expected to serve the political interests of the state and to be as accessible as possible. The exuberant experimentation that followed the overthrow of the Czarist regime was now strictly forbidden. Composers were expected to write upbeat, patriotic stuff—or else.
Unfortunately for Shostakovich, his most popular work at the time was his surreal and lurid 1934 opera "Lady Macbeth of the Mtsensk District". It had been playing to packed houses in Leningrad, but when Stalin decided to attend a performance in Moscow in January of 1936 he was not amused. He left at intermission and the next day an anonymous article on the front page of Pravda (approved and possibly even written by Stalin) condemned the music and libretto in the harshest terms. "Muddle Instead of Music," ran the headline. Not good.
Shostakovich, repentant
"The opera disappeared overnight," notes Michael Tilson Thomas in an episode of the PBS series "Keeping Score" on the Fifth, "and every publication and political organization in the country heaped personal attacks on its composer." The 29-year-old composer started sleeping in the stairwell of his apartment building, hoping that doing so might spare his family when the secret police came to drag him off to a Gulag or worse. They never did, but he lost many friends and even family members to that outbreak of official violence now known as the Great Terror.
Life under an autocratic regime run by a personality cult centered on a morally bankrupt and mentally unstable sociopath is never easy, it seems.
After writing and then withdrawing a Fourth Symphony, Shostakovich finally began work on the Fifth in April of 1937. He completed it in less than three months. He set out to produce a work that would appear, at least on the surface, to meet the demands of heroic socialist realism. He even went so far as to accompany the first performance with an article in the Moscow newspaper Vechernyaya Moskva titled "A Soviet Artist's Reply to Just Criticism"—lest there be any doubt that he had Learned His Lesson.
And it worked. Official response to the November 21, 1937, premiere by the Leningrad Philharmonic under Evgeny Mravisnky (who would become a great champion of the work) was enthusiastic. Alexei Tolstoy set the official tone in a review in which he praised the "enormous optimistic lift" of the final movement. Shostakovich was officially rehabilitated.
But is the Fifth really the model of Soviet patriotism the commissars thought it was? In his liner notes for the St. Louis Symphony's 1986 recording of the Fifth (with Leonard Slatkin conducting), Richard Freed writes that the work "was born of [Shostakovich's] determination to be a survivor, and to keep his protests private—except insofar as the perceptive listener could hear them in his music." And, indeed, it appears that the audience at the symphony's premiere heard a deeper and less superficial message. "Many in the premiere audience were seen to weep openly," writes Mr. Freed. "[T]hey wept, Shostakovich himself felt, because 'they understood; they understood what was happening around them and they understood what the Fifth was about.'"
Listening to it now, it's impossible not to hear despair and defiance instead of patriotic uplift, especially in the ominous mock fanfare of the opening and the succession of aggressive march tunes in the finale. The second movement Allegretto is a Mahlerian parody of a waltz, complete with squawking clarinet and, unexpectedly, a graceful little violin. And the third movement Largo clearly feels like lament for all the friends and family the composer lost to the Terror, memorialized with chorale-like string writing that calls to mind the liturgy of the banned Russian Orthodox Church.
This disconnect between what Soviet officials heard and what the composer intended is most evident, I think, in the final movement. The Soviet bureaucrats heard triumph, affirmation, and apotheosis. As well they might have, since Shostakovich, at the time of the symphony's premiere, described that finale as "the optimistic resolution of the tragically tense moments of the first movement." Even in the West, symphony program notes and liner notes for recordings often employed phrases like "the utmost in orchestral power and brilliance" (David Hall for the 1958 Stokowski recording) and "lusty and boisterous" (an unnamed annotator for the 1962 Karel Ancerl LP).
That all changed with the publication, in 1979, of "Testimony" by the Russian musicologist Solomon Volkov. Allegedly based on memoirs of Shostakovich, the book states unequivocally that the final movement of the Fifth was intended as a parody of militaristic triumphalism: "The rejoicing is forced, created under threat, as in Boris Godunov. It's as if someone were beating you with a stick and saying, 'Your business is rejoicing, your business is rejoicing,' and you rise, shaky, and go marching off, muttering, 'Our business is rejoicing, our business is rejoicing.'" Richard Freed writes, as well, that "Shostakovich is on record as having stated that he intended no apotheosis in this finale."
Although the notion that the Symphony No. 5 was pure pro-Soviet optimism still persists in some quarters, many recent performances and recordings tend to emphasize the caustic and satirical spects of the Fifth (Slatkin's is a good example). When the work was last performed here in 2014, the reading of guest conductor Jaap van Zweden sounded, as I wrote at the time, very much informed by the tragic and defiant subtext of this piece. What approach will Denève take? We won't know until Saturday night.
The concerts open with a much more recent work: "Emotive Transformations," written in 2018 by Michigan-born James Lee, III. A 2005 Doctorate of Musical Arts graduate of the prestigious University of Michigan School of Music, Theatre, and Dance, Lee is a prolific composer who has seen his works performed by number of major orchestras including in Philadelphia; Indianapolis; Memphis; Cincinnati; and Atlanta; and in Akron, under the batons of, among others, Marin Alsop, Michael Tilson Thomas, Juanjo Mena, and our own Conductor Laureate Leonard Slatkin.
This is normally the point where I'd give you my take on the piece, based on listening to a performance on Spotify, YouTube, or some other streaming service. Unfortunately, I have been unable to locate one, so this time I'll be discovering it along with the rest of you.  In this week's program notes, Tim Munro writes that the work "conveys the stages of grief after the death of a loved one"—in this case, Lee's father, who "helped light Lee's artistic fire."  
That would seem to make it a fitting way to open these concerts, with their sense of, in the words of Dylan Thomas, "the dying of the light."
The Essentials: Stéphane Denève conducts the St. Louis Symphony Orchestra and violin soloist Nikolaj Szeps-Znaider in Sibelius's Violin Concerto, Shostakovich's Symphony No. 5, and "Emotive Transformations" by James Lee III. Performances are Saturday at 8 pm and Sunday at 3 pm, November 6 and 7 at Powell Symphony Hall in Grand Center.
Related Articles