Classical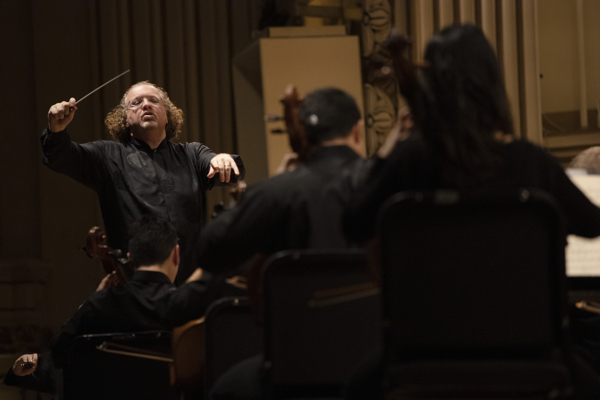 Symphony Review: The SLSO embraces the dark side with music by Sibelius, Shostakovich, and James Lee III
Written by

Chuck Lavazzi
The concert by Stéphane Denève and the St. Louis Symphony Orchestra (SLSO) last Saturday (November 6th) opened with a powerful work of personal lamentation and ended with a gripping and ultimately horrifying depiction of life under an autocratic regime run by a personality cult centered on a morally bankrupt and violent ideologue. In between we had a violin concerto that evoked images of pines, snow, and brisk northern winds.
[Find out more about the music with my symphony preview.]

It was dark, disturbing, and riveting. And I loved it.
The lamentation came from the opening work, "Emotive Transformations," written in 2018 by Michigan-born James Lee III. Inspired by the death of the composer's father the work, as Tim Munro writes in the program notes, "conveys the stages of grief after the death of a loved one." Stéphane Denève went a step further in his pre-concert talk, specifically referring to the five stages of grief described by Swiss-American psychiatrist Elisabeth Kübler-Ross in her 1969 book "On Death and Dying": denial, anger, bargaining, depression, and acceptance.
"Emotive Transformations" opens with an agitated theme that suggests the first two stages of denial and anger. A second, more soothing motif in the strings and winds hints at "comforting words" according to Denève, but to my ears it also could include the "bargaining" stage. Denève described a third ascending theme in the strings as a reference to resurrection, and I'm inclined to agree, although you could just as easily say it's about acceptance.
Either way, that last theme is almost overwhelmed by the opening sense of anger and agitation. Indeed, it eventually takes over the "comfort" theme entirely, turning it into a kind of wail of anguish (depression, possibly?) which slowly descends through the string section and is extinguished. The initial theme returns again, but now it has taken on the character of the acceptance music, rising triumphantly to a final major chord.
It all sounded a bit like Strauss's "Death and Transfiguration," but the resemblance is at best superficial. Lee's musical world is more compact and less sentimental than that of Strauss. His musical vocabulary is unquestionably contemporary, but still listener-friendly—a hallmark of the new music that Denève has introduced to local audiences. And it was beautifully played by Denève and the band, with a shout-out due to Principal Clarinet Scott Andrews for the tranquil start of the resurrection/acceptance theme. Lee was also on hand Saturday night to share in the generous applause.
Sadly, the St. Louis Public Radio broadcasts of current SLSO concerts are not available online and there are no recordings of this work available at YouTube, Spotify, or Amazon Music. I have, however, added an album of Lee's piano music to my Spotify playlist for this concert, and you can hear his "Towards a Greater Light" for string orchestra on YouTube, so you can get some idea of what his stuff sounds like.
Up next was the Violin Concerto in D minor, op. 47 by Jean Sibelius. Originally presented in 1904 and then, after a thorough drubbing by critics, premiered in a substantially revised form in 1905, the work is deeply informed by the composer's love of his native Finland's forests and striking but somewhat forbidding landscape. I have always found it to be a dramatic and often emotionally intense piece—qualities that were communicated very effectively in Saturday's deeply committed and finely shaded performance by Denève and soloist Nikolaj Szeps-Znaider.
Close friends outside of the concert hall, Szeps-Znaider and Denève have often performed the Sibelius concerto together, a fact which lent an air of intimacy to the performance and often produced the illusion that we were hearing the music of, in the words of novelist Jasper Fforde, "two minds with but a single thought." Szeps-Znaider's virtuosity was clearly on display in the challenging first movement cadenza and the galloping final movement, but his technique was always deployed in the service of Sibelius's dark, passionate soundscape. It was, as well, always completely in synch with Denève's nuanced approach to the work.
I'm not sure I'm completely persuaded by that approach, especially when it seemed to pull back a bit from some of the more dramatic episodes. Still, that restraint made some of the big moments—like the first brass chord in the opening movement—that much more powerful. And the final pages of the closing Allegro, ma non tanto packed a wallop. So on the whole, I can't complain.
The audience certainly approved. Szeps-Znaider and Denève got a solid, prolonged ovation, after which Szeps-Znaider took up the microphone to let us all know how much he had enjoyed his two-week residency here and express his deep admiration and affection for the orchestra. "You've got a good thing going here," he said, and he clearly meant it. He then gave us an encore: Fritz Kreisler's "Liebeslied" with Denève at the piano, in an echt Viennese performance infused with sentiment and topped with schlag—the musical equivalent of what the Viennese call a Franziskaner. They were clearly enjoying the hell out of it, and that joy was (if you'll excuse my use of the word) infectious.
It would have taken some seriously contagious joy, though, to stand up to the harsh, cold winds that blow through the final work of the evening, Shostakovich's Symphony No. 5 in D minor. Written over the course of three months in 1937 it was, at the time, seen as an attempt by the composer to get himself off of Stalin's blacklist, since being on it was likely to end not just his career but his life. He even went so far as to accompany the first performance with an article in the Moscow newspaper Vechernyaya Moskva titled "A Soviet Artist's Reply to Just Criticism"—lest there be any doubt that he had Learned His Lesson.
It worked. Official response was enthusiastic, and Shostakovich was officially rehabilitated. Even in the West the work was, well through the 1960s, seen as an example of unabashed pandering to mandatory patriotism. As Maestro Denève pointed out, however, great music is nothing if not ambiguous, and as more details began to emerge about what composer's private thoughts might have been about the fifth symphony, critics and conductors began to realize that something much darker lurked beneath the brilliant orchestration, memorable tunes, and apparent bombast of the Allegro non troppo finale.
That something was a portrait of the grim reality of life in a one-party state run by a mass murderer and his ethically challenged enablers. "Many in the premiere audience were seen to weep openly," wrote Richard Freed in his liner notes for the SLSO's 1986 recording of the work. "They wept, Shostakovich himself felt, because 'they understood; they understood what was happening around them and they understood what the Fifth was about.'"
These days, performances of the symphony are more likely to emphasize that dark side. Denève's certainly did. The emotional impact of this engrossing and devastating reading left me unsure what the appropriate response was. Should I sit there in stunned silence at the brutality of the thundering finale, or should I give this reading the enthusiastic standing ovation it so richly deserved? I opted for the latter, partly because it had been so brilliantly done and partly to shake off uneasy feeling that (to paraphrase Jon Landau's famous review of Bruce Springsteen in 1974) I had heard America's future and its name was Dmitri Shostakovich.
Conducting without a score, Denève gave us a Fifth that began with a cry of pain in the strings, followed by snarling march from the brass and percussion sowing death and destruction. The first movement ends with nobody left to tell the tale except the harp and celesta (Allegra Lilly and Peter Henderson, respectively, in a beautifully tragic duet) quietly commenting on the smoking ruin of the battlefield.
And so it went for the next three movements. The Allegretto was a lumbering waltz of storm troopers, briefly interrupted by graceful ballerina (Concertmaster David Halen, in a touching solo assisted by Lilly and flutist Jennifer Nitchman). She tries to return in a pleading English horn solo by Cally Banham but is ultimately banished from the scene. The Largo that made Russians weep is pure desolation, ending in tranquil string chords that fade to a silence which is violently broken, after only a brief pause, by the aggressive final movement.
Here, in a fusillade of blazing brass and pounding percussion, the Soviet bureaucrats heard triumph, affirmation, and apotheosis. And perhaps, in that first performance, conductor Evgeny Mravisnky made sure it came across that way. But, as Mr. Denève demonstrated Saturday night, it only takes a few adjustments to reveal the coercion behind that triumph. The slow, relentless hammer blows of the percussion in the coda sounded less like affirmation and more like a case of "the beatings will continue until morale improves." The effect was both thrilling and horrifying.
I don't know how well that all came across in the live broadcast, but in Powell Hall it was shattering. Kudos to everyone involved and especially to Maestro Denève for what must have been a physically and emotionally draining experience.
Next at Powell Hall: Stéphane Denève conducts the St. Louis Symphony Orchestra and pianist Víkingur Ólafsson in Grieg's Piano Concerto, Beethoven's Symphony No. 5, and Carlos Simon's "Fate Now Conquers." Performances take place Saturday at 8 pm and Sunday at 3 pm, November 13 and 14, at Powell Symphony Hall in Grand Center. There will also be a special Crafted Happy Hour performance of Beethoven's Fifth on Friday, November 12, at 6:30 pm at the Touhill Performing Arts Center on the UMSL campus.
Related Articles