Classical
Classical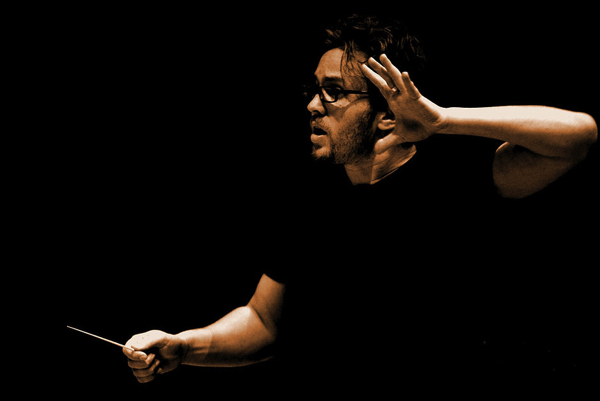 Symphony Review: Scottish snap and snappy Schubert with the SLSO
By Chuck Lavazzi
Prepandemic my wife and I traveled quite a bit. One of our favorite destinations for a time was Scotland. We haven't been back in a while, but the St. Louis Symphony Orchestra (SLSO) concert last Saturday (November 20) summoned up, however briefly, memories of the gloomy, glorious land north of England.
[Find out more about the music with my symphony preview.]

The concerts opened the USA premiere of Anna Clyne's brief and rowdy "Pivot." Inspired by the composer's experiences at the 2021 Edinburgh Festival Fringe, "Pivot" lives up to its title by constantly moving from one musical style to another. It starts with a very Celtic-sounding fiddle tune backed up by a bagpipe-like drone in the brasses and percussive slaps in the lower strings. From there it switches to a mix of other styles, including a woodwind melody that sounds distinctly Middle-Eastern. Sometimes multiple musical ideas clash in way that Charles Ives would probably have appreciated. But the music always returns, rondo-style, to that fiddle tune.
"Pivot" clearly demands precise playing and someone on the podium who can hold this brilliantly organized chaos together. In his SLSO debut, conductor David Danzmayr, the newly appointed Music Director of the Oregon Symphony, proved fully up to the task. The SLSO musicians played with exciting snap and physical energy, making this a perfect opening number.
The Scots theme continued with Max Bruch's 1880 "Scottish Fantasy" for violin and orchestra.  Bruch's experience of Scotland was literary rather than literal in that he never set foot on Scottish soil but, as Caitlin Custer points out in this week's program notes, Bruch read "everything Scottish he could get his hands on." In any case, he did a surprisingly good job of communicating the majestic windswept and melancholy beauty of the countryside. That's especially the case in the wistful third movement, which makes liberal use of the traditional air "I'm A' Doun for Lack O' Johnnie".
Simone Porter
Photo by Elisha Knight
In her SLSO debut, soloist Simone Porter proved to be a most persuasive interpreter of Bruch's sentimental and appealing work. Fully engaged with both the conductor and the orchestra, Porter played with rich warmth in the lyrical first and third movements. In the latter, she played with so much tenderness that I felt a temptation (wisely resisted) to hum along with her. She had a brighter sound and more physically active stage presence in the cheerful second movement, based on the lively fiddle tune "The Dusty Miller", and brought out the majesty and pride of the finale, which is based on "Scots Wha Hae"—Scotland's unofficial national anthem, at least back in Bruch's day.
All of which is a loquacious way of saying that it was a damn fine performance of a tremendously appealing work, by both Porter and Danzmayr. The latter chose his tempi and dynamic contrasts with great care—including the wise use of an extended moment of silence after the third movement. The orchestra was right there with him all the way. A special shout-out is owed to harpist Allegra Lilly, whose playing added another rich layer, especially in the third and fourth movements. It has been suggested that Bruch saw the harp as an essential part of the Scottish folk tradition. If so, he was wise to include it.
The audience clearly appreciated Porter's work and insisted on an encore, And the one she gave us was lovely: the third movement ("Sarabanda") from Bach's Violin Partita No. 2. Porter prefaced it by describing her experience working with the SLSO as "joyous." I think the audience would agree.
The concert closed with Schubert's imposing Symphony No. 9 (or maybe 7 or 8) in C major, nicknamed "The Great" to distinguish it from his Symphony No. 6, the "Little," C major. Unperformed during the composer's brief life and ignored for many years afterwards, the symphony long had a reputation among many musicians and critics as repetitive, difficult to play, and simply too long. And while it's now a regular part of the repertory, it's still a work filled with challenges for both conductors and listeners, as Joshua Weilerstein recently noted in his Sticky Notes podcast.
The biggest challenge is simply bringing enough variety and sense of momentum to a work which, if one takes all of the composer's repeats, can last fifty minutes or more. Personally, I believe they should be treated as optional, but not everyone agrees. I recall a critic on the long-defunct WQXR radio show "First Hearing" once referring to a recording that dumped the repeats in the final movement as the equivalent of "blowing a hole in the Sistine Chapel."
Perhaps he was engaging in hyperbole.
David Danzmayr
In any case, Danzmayr apparently decided they were indeed optional, at least in the first and last movements. Omitting them, together with generally brisk tempi, clean high-level playing by the band, and an overall concept of the work that was both vigorous and subtle, produced a Schubert Ninth that was bursting with energy, sentiment, and drama.
I have about a page of notes in front of me on the many decisions by Danzmayr that made this performance such a standout, but I'm going to demonstrate adult restraint and limit myself to a just a few. To begin with, tempo choices in the first movement were ideal. The Andante opening was actually taken (as the term implies) at a "walking" pace—relaxed but not sluggish. The transition to the main Allegro ma non troppo body was dramatic, and the movement as a whole crackled with energy.
The second movement, Andante con moto, has always suggested a mysterious nocturnal procession to me, and Jelena Dirks's oboe solo hit just the right mix of the enigmatic and mournful. The moment at which the main theme unexpectedly bursts forth in a shriek of terror was powerful, with the one-measure rest afterwards held just long enough to underline that feeling. When the pizzicato strings made their hesitant entrance, it felt like they were cautiously emerging from a bomb shelter.
The Scherzo third movement had just the right amount of contrast between the boisterous main theme and the more flowing trio section. And the Allegro vivace finale galloped along with an irresistible vitality, with a powerful coda that brought the house down. Seriously, this was one of the best Schubert Ninths ever and a real feather in Danzmayr's cap.
And what spectacular playing by the SLSO musicians! Roger Kaza's horns were in excellent form as were all the winds. Schubert gives most of the best stuff to the woodwinds and brasses in this symphony (one reason why string players disliked it so much at first), and ours have never sounded better.
Next at Powell Hall: Gemma New conducts the SLSO along with soloists Sasha Cooke (mezzo-soprano), Elizabeth Chung (cello) and David Halen (violin) in Jake Heggie's "The Work at Hand," Elgar's "Sea Pictures," and Rimski-Korsakov's "Scheherazade." Performances are Saturday at 8 pm and Sunday at 3 pm, November 27 and 28. The concerts are dedicated to the memory of the late St. Louis Post-Dispatch music critic Sarah Bryan Miller, who died last November 28th after fighting a long battle with cancer with courage and grace.
Related Articles