Classical
Classical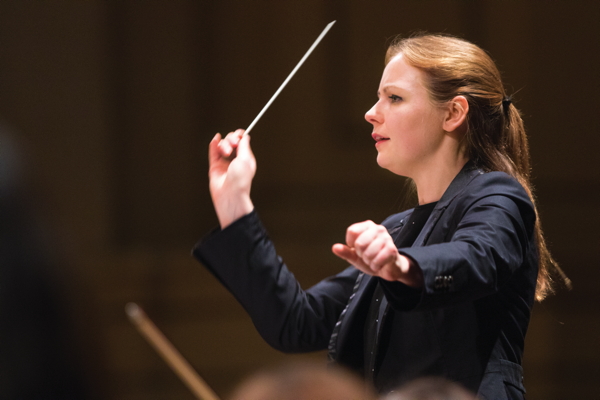 Symphony Review: Gemma New conducts a moving tribute to the late Bryan Miller
By Chuck Lavazzi
Last Saturday (November 27) Gemma New, the former Resident Conductor of the St. Louis Symphony Orchestra (SLSO), returned to Powell Hall to conduct the first of a special pair of concerts honoring the life and work of the late St. Louis Post-Dispatch music critic Sarah Bryan Miller. A former professional mezzo-soprano and life-long singer, Bryan (as she preferred to be called) died almost exactly one year ago (November 28, 2020) after a long and valiant battle with cancer.
[Find out more about the music with my symphony preview.]

Bryan left the SLSO a substantial bequest, which was used to establish the Sarah Bryan Miller Fund to support vocal soloists and performances of choral repertoire with the SLSO. This weekend's concerts, which featured two works for solo mezzo-soprano, represented the first use of that fund.
The concert opened with the 1898 version of Elgar's song cycle "Sea Pictures." Although it uses poems by five different writers (including the composer's wife, Alice), both the sea and mortality are consistent presences. The latter is often in the subtext or just in the dark orchestral colors of the lower strings and percussion, but it's always there.
Still, there is a wide variety of moods and imagery in "Sea Pictures," and mezzo Sasha Cooke (whowas so very good in Bernstin's Symhony No. 2 here in 2019)  masterfully did them all justice. Her voice was rich and fluid and her acting skills (as you would expect from someone with her opera credentials) vividly brought out the joy of "In Haven (Capri)" (text by Alice Elgar), the religious ecstasy of "Sabbath Morning at Sea" (text by Elizabeth Barrett Browning), and in Richard Garnett's "Where Corals Lie," that unfocused, distant stare of someone who is halfway between life and death. Principal Harp Allegra Lilly's playing here strongly reinforced that feeling.
Mezzo Sasha Cooke
Cooke did not, unfortunately, seem to have the sheer vocal power necessary to ride over Elgar's large (just short of 70 players) orchestra. Elgar's original soloist, Dame Clara Butt, was a dramatic contralto whose big, powerful voice was legendary. "On a clear day," quipped Sir Thomas Beecham, "you could have heard her across the English Channel!" So anyone taking this piece on now has her work cut out for her, and Cooke's fine voice was too often overwhelmed by the band, New's efforts to maintain a balance notwithstanding.
Balance was less of an issue in the next work, Jake Heggie's "The Work at Hand" from 2015. Based on a poem of the same name by late Laura Morefield (1961-2011), who had just been diagnosed with cancer, "The Work at Hand" is, in the words of the composer, "about the difficult and deeply human experience of knowing it is time to say goodbye and let go." He calls the poet's language and imagery "particularly striking: origami, the yoga Warrior 1 position, and a shimmering reconnection to nature."
Here, again, Cooke was always fully in the moment, making the complex and beautiful text truly live. And Heggie's more transparent orchestration made it easier for her to be heard and understood, but even so there were too many times when it was difficult to do both. It would have been helpful, in that respect, to have projected text to go along with the performance, as the SLSO has often done in the past. Instead, lyrics were in the printed program only—a less than ideal arrangement that forced the audience to constantly shift attention between the program and the performance.
Still, Heggie's arrangement of his own original for voice, cello and orchestra (the latter replacing the piano) is quite imaginative, treating each of the poem's three stanzas as separate entities; a sensible decision, given their contrasting moods. His use of woodblocks and other "Japanese" touches sets the tone for "Part One: Original Origami"; the militaristic feel of "Part Two: Warrior One" reflects the poet's vision of defiance; and the ethereal sounds of the harp, woodwinds, and vibraphone provide an otherworldly ambiance for the quiet acceptance of "Part Three: The Slow Seconds." A transcendent violin solo (beautifully played by Concertmaster David Halen) adds to that sensibility.
Elizabeth Chung
SLSO cellist Elizabeth Chung was also a powerful presence Saturday night, especially in the highly dramatic solo part that opens and closes the first section.
Despite the fact that the Heggie work was a local premiere and that the Elgar might as well have been (it was last performed by the SLSO 35 years ago), New and the band did a grand job of bringing them to life Saturday night. If you have seen New in action before, you know she is a theatrical conductor who engages on a very physical level with the score. Her big, sweeping gestures are a kind of 3-D metaphor for the music. That striking visual presentation only works, though, because of the rigorous effort that has clearly gone into preparing the piece in advance. Much like a theatrical director, a conductor does the vast majority of their work out of sight of the audience.
That same combination of discipline and visual drama also made Rimski-Korsakov's popular "Scheherazade," the concluding work on the program, an experience to be savored and one which is likely to live long in my memory.
New was truly in her element here, with a majestic, high-energy rendition of the composer's colorful fairy-tale world of the "One Thousand and One Nights." The opening duet for harp and violin was magical, thanks to Lilly and Halen, and the main body of the movement, depicting "The Sea and Sinbad's Ship," carried with it an almost visceral sense of the vast ocean and the rocking vessel. "The Story of the Kalandar Prince" was filled with a sense of adventure,with outstanding opening and closing solos by Principal Bassoon Andrew Cuneo and Principal Oboe Jelena Dirks. "The Young Prince and Princess" had just the right amount of romance without a trace of treacle and with some graceful dancing from the muted trumpets, flute, and tambourine. The final movement was a high-definition, big-screen evocation of Rimsky-Korsakov's rich collage of images: a fair in Baghdad (including some brilliant double- and triple-tonguing from the trumpet section); a shipwreck; and the final, gentle triumph of Scheherazade. Some of New's tempos here were breathtakingly fast and packed a potent punch.
You will be less than astonished to know that it brought the entire house quickly to its feet, including everyone in our party.
Next at Powell Hall: Local favorite Nicholas McGegan returns to lead the SLSO in music of C.P.E. Bach and his dad, Johann Sebastian, including two of the latter's Brandenburg Concertos. Performances are Friday at 7:30 pm, Saturday at 8 pm, and Sunday at 3 pm, December 3-5.
Related Articles