Classical
Classical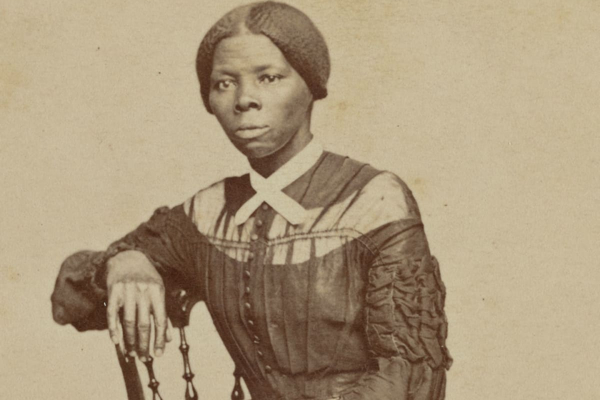 Symphony Preview: A passion for freedom
By Chuck Lavazzi
This weekend (Friday and Saturday, April 18 and 19), Stéphane Denève leads the St. Louis Symphony Orchestra (SLSO) in a trio of deeply passionate works, including a local premiere that pays tribute to an important historical figure whose 200th birthday is being observed this year.
[Preview the music with my commercial-free Spotify playlist.]

That figure is Harriet Tubman, the legendary abolitionist, suffragist, and creator of the Underground Railroad, the network of like-minded Americans who helped runaway slaves escape to freedom in the north. "Chuphshah! Harriet's Drive to Canaan" by James Lee III (whose "Emotive Transformations" was performed by the orchestra last November) celebrates Tubman's life and work in a dynamic tone poem that opens with her own escape from slavery rendered as rapid four-note figures on the marimba and the English horn (the instrument that represents Tubman throughout the work).
The strong emotions that prompted her to take on the dangerous role of "conductor" of the Underground Railroad can be heard in the more contemplative central section. References to the Civil War soon show up in quotes from hymns and songs of the period—most notably "Dixie" (written, ironically, by a Northerner who denounced its appropriation by the Confederacy) and "The Battle Hymn of the Republic"—as well as in a "battle music" section that begins with an ominous theme in the contrabassoon and bass clarinet. The work concludes with a triumphal vision of Tubman's 1913 funeral (a large affair with up to 1000 mourners) as a military ceremony, with trumpets and drums.
Regarding the title: "Chuphshah" is Hebrew for "freedom" while Canaan is an ancient (2nd millennium BC) Semitic civilization which eventually became a synonym for the "promised land" of the Bible. For enslaved black Americans, it was also a synonym for the free states of the North. Being on the Underground Railroad meant you were "bound for Canaan."
Gershwin in 1937
Photo: Carl Van Vechten
en.wikipedia.org
Closing the first half of the program is Gershwin's 1925 Concerto in F. The piano soloist is Jean-Yves Thibaudet, who is completing a two-week gig here in town.  The concerto isn't particularly complex from a purely structural point of view, but I still find it amazing to contemplate that it was written only a year after the far more rudimentary "Rhapsody in Blue." Gershwin's development as a serious composer took place with an almost supernatural rapidity, as though he somehow knew that his life on this planet would be tragically short (he died of a brain tumor just a few months short of his 40th birthday).
As it is, the Concerto is a beautifully crafted piece: lean, powerful, without a spare note.  Reviewing the December 3, 1925, premiere of the concerto for the New York World, critic Samuel Chotzinoff noted that Gershwin's "shortcomings are nothing in the face of the one thing he alone of all those writing the music of today possesses.  He actually expresses us.  He is the present, with all its audacity, impertinence, its feverish delight in its motion, its lapses into rhythmically exotic melancholy."  You can feel and hear that "jazz age" urgency in every note of this music.
Ferde Grofé, who orchestrated the "Rhapsody in Blue," also prepared a jazz band transcription of the concerto. Thibaudet recorded it with Marin Alsop and the Baltimore Symphony in 2010. I have included that version in my Spotify playlist this week just for comparison, even though the version we'll be hearing is Gershwin's original. The performance of the latter that I picked for the playlist was recorded in 1990 by our own SLSO conducted by Leonard Slatkin with Jeffrey Siegel at the keyboard.
Did you know, by the way, that George Gershwin actually conducted the SLSO in a benefit concert on March 1st, 1936, the year before he died? The program included the Concerto in F and selections from "Porgy and Bess," along with Tchaikovsky's "Symphony No. 6." I wish I had Dr. Who's T.A.R.D.I.S. for that one.
Serge Rachmaninoff, circa 1936
The concerts conclude with Rachmaninoff's Symphony No. 3. The composer's last essay in the form, it was written in 1936, nearly two decades after the composer had begun living in exile and almost three decades since his Symphony No. 2. He had vowed never to write another symphony after that one but, as Tim Lully suggests in his program notes, something about life at the villa he and his wife had built on Lake Lucerne in Switzerland a few years earlier must have re-ignited his symphonic fire.
It is, in any case, a work of striking originality. It's unorthodox in form (the second movement, for example, embeds a spiky Prokofiev-style scherzo in the middle of a lyrical Adagio) and startling in its occasionally un-Romantic harmonies. Tom Service, in a wonderfully cogent analysis for The Guardian, notes that its "a subtly radical structure" presents the "modern, even modernist, idea" of being able "to speak on multiple expressive levels simultaneously, to say one thing and mean another."
The third isn't Rachmaninoff's most popular symphony by any means—the SLSO hasn't played it since 2010—so this will be a rare opportunity to hear this remarkable work. The performance in my Spotify playlist (Maris Jansons with the St. Petersburg Philharmonic) is one of Service's top three recordings.
The Essentials: Stéphane Denève conducts and Jean-Yves Thibaudet returns as soloist for Gershwin's Concerto in F. The program opens with "Chuphshah! Harriet's Drive to Canaan" by contemporary American composer James Lee III and concludes with Rachmaninoff's Symphony No. 3. Performances take place Friday at 10:30 am and Saturday at 8 pm, March 18 and 19 at Powell Hall in Grand Center. Saturday's concert will also be broadcast live on St. Louis Public Radio and Classic 107.3 both over the air and on the Internet. Denève also conducts the orchestra and cellist Alvin McCall in a 90th birthday tribute to John Williams on Sunday, March 20, at 3 pm.
Related Articles