Classical
Classical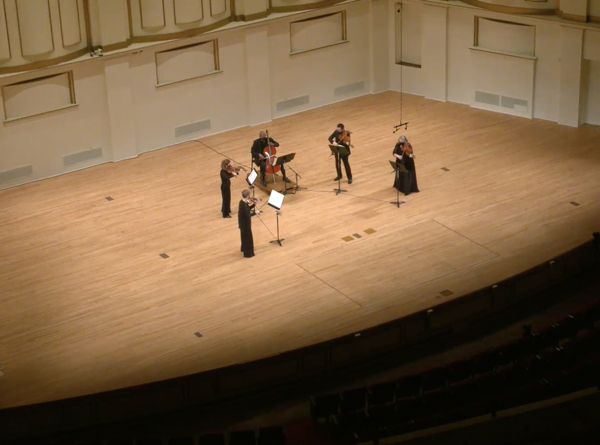 Symphony Digital Review: Sunshine and shadow in a pair of quintets by SLSO musicians
By
Available for on-demand streaming through August 31st, the fifth of five videos in the St. Louis Symphony Orchestra's digital series presents two quintets by Prokofiev and Mozart. The pair are a study in contrasts, and not just because they were written nearly 250 years apart. They're also scored for two very different groups of instruments and represent very different moods.
Prokofiev's Quintet
The video opens with Prokofiev's Quintet in G minor, op. 39. Scored for oboe, clarinet, violin, viola, and double bass, the quintet was written in Paris in 1924. The work was  originally intended as the score for "Trapeze," a circus-themed ballet that was to be performed by a five-member dance troupe of fellow Russian émigrés. The oddball instrumentation was dictated by the instruments the troupe had on hand.
The ballet never happened, but you can hear more than a hint of the Big Top in what Second Associate Concertmaster Celeste Golden, in her spoken introduction to the original live video performance on March 14th 2021, called the "technical acrobatics" of the score.
There are times, especially in the second and fourth movements of this six-movement work, when the music turns wistful, grim, and even a bit creepy, but on the whole the Quintet is all bright lights, greasepaint, and reckless abandon. It's fun to hear, and fascinating to watch as the performers do, indeed, execute some musical high-wire acts. At one point the camera zooms in on Celeste Golden Boyer's fingers rapidly dashing up and down the strings; at another you can see Principal Bass Erik Harris working at the extremes of his instrument's range. Principal Clarinet Scott Andrews, Cally Banham (on oboe rather than her usual English horn), and violist Shannon Farrell Williams provide copious amounts of dazzling moments as well.
The instrumentation of Mozart's String Quintet No. 4 in g minor, K. 516, was also unusual for its time: two violins, two violas, and one cello. The dominance of the lower and darker voices is a perfect match for the predominantly tragic and even angry mood of the work. It's fraught with drama and overhung with musical storm clouds that don't clear until the lengthy adagio introduction of the fourth movement gives way to a sunny, danceable allegro in rondo form.
L-R: Alvin McCall, Jonathan Chu,
Beth Guterman Chu
In her spoken introduction, Assistant Principal Second Violin Eva Kozma describes this as one of her favorite chamber works, and you can both see and hear that in the passion she and Principal Second Violin Alison Harney bring to their performances. Mozart gives the violas prominent roles  as well, and the wife and husband team of Principal Viola Beth Guterman Chu and Associate Principal Viola Jonathan Chu fill them admirably. To my eyes and ears, at least, their playing seems to have that extra level of intimacy that can come with living together as well as playing together. Cellist Alvin McCall provides a deep, resonant backbone for the ensemble.
The Prokofiev was broadcast live only once and although it was recorded last February the Mozart Quintet is, as far as I know, being presented here for the first time. So for many of you this will be your only chance to enjoy these excellent performances. Both were recorded in an audience-free Powell Hall, and the long-distance shots of five performers alone in that big auditorium add an extra layer of melancholy to the Mozart.
The St. Louis Symphony's concert of quintets by Prokofiev and Mozart is available via on-demand video through August 31st. For more information visit the SLSO digital concerts page.
Related Articles