Classical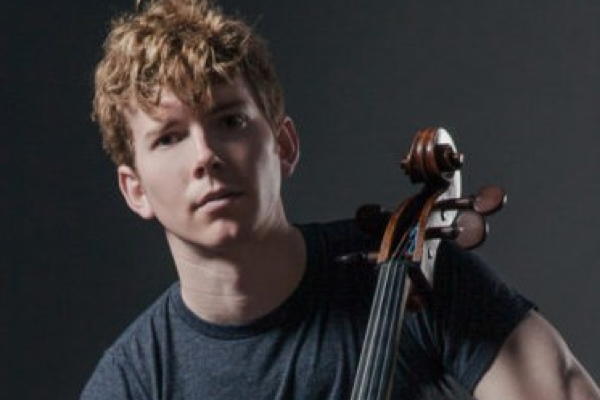 Symphony Review: Fantastic beasts and knightly fantasy with Slatkin, Joshua Roman, and the SLSO
Written by

Chuck Lavazzi
When he took the stage last Sunday afternoon (April 23rd), St. Louis Symphony Orchestra (SLSO) Conductor Laureate Leonard Slatkin noted that this would be his last appearance on "this particular version" of the Powell Hall stage. That's because when the current season ends on May 14th, Powell will be closed for renovation and expansion until 2025, the building's centennial year. When it reopens, the stage will look pretty much the same, but every aspect of it and the rest of the building will have been upgraded.
[Find out more about the music with my symphony preview.]
For his last appearance in the current version of Powell Hall, Slatkin picked a program that he described, with tongue firmly in cheek, as "very Slatkin-esque; or, as some of you might be saying, 'oh, no, it's one of those.'" It got a laugh, but it was also accurate in that the evening consisted of a couple of well-established mainstream works bracketing the local premiere of a contemporary piece. And, as I noted in my preview, all three share some points in common—another quintessential Slatkin touch.
The concert started with a sparkling performance of the lively "España," composed in 1883 by Emmanuel Chabrier (1841–1894). It's his most popular piece and even inspired at least two "borrowings": Emil Waldteufel's "España Waltz" in 1886 and the pop song "Hot Diggity (Dog Ziggity Boom)," which was a big hit for Perry Como in 1956.
Mason Bates and Leonard Slatkin
Aside from the "ear worm" status of its tunes, the most striking thing about "España" is the sheer ingenuity of the orchestration. Chabrier tosses the work's two main themes back and forth among the various sections of the orchestra with breathtaking speed. He also alternates moments of sharply contrasting moods, as when a delicate harp duet (Allegra Lilly and Megan Stout) is repeatedly interrupted by the brass section. The result is something of a musical soccer game with the ball in constant motion.
Needless to say, this calls for both an orchestra and conductor who are, so to speak, fleet of foot. Sunday afternoon we had both, with a crisp, precise, and viscerally exciting performance by Slatkin and the band. Enthusiastic applause followed.
Thematic material got bounced around quite a lot in the next work, the "Anthology of Fantastic Zoology" by Mason Bates (b. 1977). Based on the "Book of Imaginary Beings" by one of the previous century's premier Spanish-language writers, Jorge Luis Borges, it's described by the composer as "a kind of psychedelic Carnival of the Animals."
That's not a bad analogy. Sure, the animals here are entirely mythical if not downright outré (e.g. the Zaratan, a ginormous sea turtle the size of an island) but that just gives Bates all the more opportunity to show off his genius as an orchestrator as well as his flair for the theatrical. That's most apparent in the "Sprite" movement, where the short, quicksilver theme leaps from player to player and even to a pair of violins placed far stage right and stage left (they're supposed to be offstage, but that would have rendered them inaudible at Powell). It's a bit like Chabrier's soccer game, but on amphetamines.
The first ten of the work's eleven movements are an auditory funhouse. Each fantastic animal has its own unique and enticing musical profile, building steadily to "Sirens," which Bates calls "the lyrical core of the piece." In it, the not-quite-offstage violins trade a pair of themes which are gradually taken up by the entire orchestra, leading to a massive outpouring of ecstasy. The ecstasy mutates into agony as dissonant intervals are added to the mix until it all becomes a mass of tone clusters à la György Ligeti that represent the all-consuming Zaratan.
Wonderful stuff so far, but for me the work goes off the rails in the finale, "Madrugada" (the legendary "witching hour" between midnight and dawn). Bates describes this movement, in which "the entire work collapses upon itself," as "sprawling." I'd describe it as overwritten and discursive. Running over ten minutes (nearly a third of the work's 30-minute running time), it vitiates much of the energy accumulated up to that point.
Still, it was great fun for the first 20 minutes or so and allowed the musicians of the SLSO to show off their virtuosity. Even without seeing the score, it's clear to me that "Anthology of Fantastic Zoology" is (ahem) a beast to play and conduct. A special shout-out is due Principal Tympani Shannon Wood, playing ten instruments in what looks like a section of the "drum cage" he built for William Kraft's Tympani Concerto back in 2016, but everybody in the band had a workout on this one. That included Slatkin, who held this massive structure together masterfully.
Joshua Roman and Leonard Slatkin
This was only my second exposure to a live performance of music by Mason Bates (the first was the world premiere of his opera "The (R)evolution of Steve Jobs" in Santa Fe back in 2017) and I was once again impressed by his originality and his ability to engage the audience without "writing down" to us. His is an eclectic and inventive voice that is very much welcome these days. I hope to see and hear more of his work here in the future. Meanwhile, he's well represented on both YouTube and Spotify for those of you interested in hearing more of that voice.
The concert concluded with another virtuoso orchestral showpiece with Spanish connections, "Don Quixote (Fantastic Variation in a Theme of Knightly Character)" by Richard Strauss (1864–1949). Written at around the same time as Strauss's "Ein Heldenleben" ("A Hero's Life"), "Don Quixote" balances the former's triumph with a mix of comedy and tragedy—so much so that Strauss saw them (according to Grove Online) "as paired works, and suggested that they be performed together." Given that Strauss notoriously saw himself as the protagonist of "Heldenleben," I have to wonder if he saw the Don as another side of his personality.
Certainly it's a sympathetic portrayal of Cervantes's "knight of the woeful countenance", with Quixote represented musically by the mellow, resonant tones of the cello. This past weekend's soloist, Joshua Roman, proved more than equal to the task, clearly connecting with his character's emotional arc. In an interview for St. Louis Public Radio earlier in the week, Roman talked about the importance of "becoming the Don," something that could be seen in his face and heard in his playing.
That said, it wasn't always easy to hear his instrument from our seats upstairs. His tone sounded a bit thin, and he was often swamped by the orchestra. Given that I did not notice these issues when I listened to the broadcast of Saturday's concert, I'm inclined to chalk it all up to Powell Hall's acoustics rather than to Roman's performance.
Backing Roman up were Principal Viola Beth Guterman Chu as the loyal Sancho Panza, assisted by Concertmaster David Halen, Tim Myers on euphonium, and Tzuying Huang on bass clarinet. The give and take between Chu and Roman in "Variation III: Dialogue of the Knight and the Squire" was a pleasure to watch, as the progress of the conversation could be seen and heard in their performances. Chu's Sancho argues, cajoles, and finally gives in as Roman's Don remains cheerfully oblivious, head firmly in the clouds.
Next at Powell Hall: Stéphane Denève returns to conduct Gabriela Lena Frank's "Apu," Bartók's Piano Concerto No. 3 (with soloist Piotr Anderszewski), and Stravinsky's "Le Sacre du Printemps." Performances are Saturday at 8 pm and Sunday at 3 pm, April 29 and 30.
Related Articles