Classical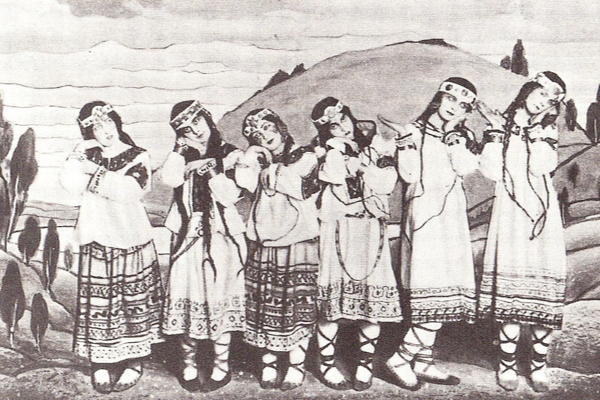 Symphony Preview: Just folks
Written by

Chuck Lavazzi
Folk traditions, in one form or another, serve as the basis for the penultimate St. Louis Symphony Orchestra (SLSO) program this weekend (Saturday and Sunday, April 29 and 30). Music Director Stéphane Denève conducts with piano soloist Piotr Anderszewski.
[Preview the music with my Spotify playlist.]

The program opens with the local premiere of the tone poem "Apu" by Gabriela Lena Frank, Composer-in-Residence with the Philadelphia Orchestra, founder of the Gabriela Lena Frank Creative Academy of Music, and a graduate of my alma mater, Rice University.
Gabriela Lena Frank
Photo by Mariah Tauger
Ms. Frank's background is one of ethnic diversity, as her biography clearly attests:
Born in Berkeley, California (September, 1972), to a mother of mixed Peruvian/Chinese ancestry and a father of Lithuanian/Jewish descent, Frank explores her multicultural heritage most ardently through her compositions. Inspired by the works of Bela Bartók and Alberto Ginastera, Frank is something of a musical anthropologist. She has traveled extensively throughout South America and her pieces often reflect and refract her studies of Latin American folklore, incorporating poetry, mythology, and native musical styles into a western classical framework that is uniquely her own.
In short, as Frank says in an interview for the Detroit Symphony Orchestra, "I don't look like most composers in classical music. I'm not white; I'm a woman; and I'm alive... And: I'm hearing-impaired."
The Peruvian side of her background is on display in "Apu," as it was in her "Leyendas," selections from which were performed here in 2020 as part of the SLSO's chamber music series. "In Andean Perú," says Frank in her program notes, "spirits are said to inhabit rocks, rivers, and mountain peaks…The apu is one of the more well-known spirits that is sometimes portrayed as a minor deity with a mischievous side who is rarely seen."
Like the supernatural practical jokers in other folk traditions around the world, Apu is probably someone you want to keep happy. "Simple folk song and a solemn prayer often successfully placate the apu," says Frank, "to ensure safe passage through the mountains." That song is the subject of the first movement, Pinkillo Serrano, while the prayer is heard in the second movement, Haillí. Apu himself shows up in the final movement, traipsing through the tuned percussion instruments and generally raising a ruckus before evaporating like the morning dew.
You won't find a recording of "Apu" on the Spotify playlist, but fortunately you can watch Marin Alsop conduct the 2017 world premiere performance by the National Youth Orchestra on YouTube.
Since Frank cites Béla Bartók as a source of inspiration, it's only right that the next item on the program is the "Piano Concerto No. 3", which he wrote during the final year of his life (1945) in New York. Unlike his first two concertos, which he wrote for himself (he was a formidable pianist), the third was composed for his second wife, Ditta. The hope, according to Geoffrey Norris in a 2016 article for The Gramophone, was "that it would give her some sort of legacy after his death, both in terms of her own profile as a pianist (though she seems never to have played it in public) and in the income she might accrue from royalties when it was taken up by others."
A more prosperous Bartók in 1927
That was probably a good bet. Although Bartók's three concertos have never been as popular as those of Big Guns like Tchaikovsky or Rachmaninoff, they have always had their ardent supporters. And the third concerto is probably the most accessible of the three. It is, in Norris's words "altogether of a gentler, more reflective if scarcely (in the outer movements) less dynamic mien" than the first two. "András Schiff," he notes, "describes it as 'a wise man's farewell.'" And so it was; when the composer died on September 26, 1945, it fell to his friend, the violinist and composer Tibor Serly, to complete the final 17 measures. The concerto was his last musical will and testament.
That's not to say it's funereal. Lively dance-like elements dominate both the opening and closing movements, and the Adagio religioso that separates them is classic Bartók "night music", with emotionally intense chorales flanking a middle section that evokes the nocturnal sounds of nature. And all the way through, you can hear the influences of the folk music he collected during his life.
That brings us to the Big Finale, the score for the 1913 ballet "Le Sacre du Printemps" ("The Rite of Spring") by Igor Stravinsky. The third in a series of series of successful collaborations between Stravinsky and impresario Serge Diaghilev's Ballets Russes (the previous two being "The Firebird" from 1910 and "Petruska" from 1911), "Sacre" was, like "Apu" and the Bartók concerto, inspired by folk elements (Russian ones, to be precise).
The first performance of "Sacre"—at the newly opened Théâtre des Champs-Elysées on May 29, 1913, with Pierre Monteux conducting—became a notorious succès de scandale. "It is arguably," writes Paul-John Ramos at classic.net, "the most famous debacle in western artistic history":
Audience members found the quiet, yet active, introduction ridiculous. When the curtain rose and [choreographer Vaslav] Nijinsky's dances began, the auditorium went into a rage, their sophistication insulted… Debris was thrown, as well as punches. The work was performed in full, but only with the help of Nijinsky calling steps from atop an offstage chair.
Later performances were less riotous. In fact, when Monteux conducted a concert performance in the Casino de Paris the following year, Stravinsky was carried from the hall in triumph on the shoulders of audience members. Today the music sounds less radical but still packs a tremendous dramatic punch, as was the case when David Robertson opened the 2011-2012 SLSO season with it.
Stravinsky in 1903
By

Unknown

Photograf -
archives de FinitoR
Public Domain, Link
A wide assortment of performances of both the orchestral score and the ballet are available online. The SLSO picked the composer's own 1962 Columbia Symphony Orchestra recording for its Spotify playlist, but I find it rather bloodless. As he got older and more austere in his musical language, Stravinsky the conductor tended to treat the music of his younger self as something that needed taming.  For my playlist, I have instead chosen a thoroughly unbuttoned 2005 recording by Peter Eötvös and the Junge Deutsche Philharmonie.
I have also included the 1929 recording by Monteux himself with the Grande Orchestre Symphonique for its glimpse of what it was like to play this insane music before it became a standard repertoire item. On his "Sticky Notes" podcast, Joshua Weilerstein points out that the rhythmic instability Stravinsky wrote into the work's final moments by using "off balance meters that have 5 or 7 beats in the bar" can be lost in more streamlined recent performances. "You can almost hear the panic" in this performance, observes Weilerstein, "but in a way this recording, which is unstable and not together, has more of that visceral excitement that Stravinsky surely wanted." For a deeper dive into the music, there's also a version of Leonard Bernstein's 1958 New York Philharmonic recording synchronized with pages from the score.
As for videos of the ballet itself, you can see not one but two recreations of Nijinsky's original choreography performed by the Orchestra and dancers of the Ballet Mariinski Theater under Valery Gergiev at the Mariinski Theater in 2008 and at the Théâtre des Champs-Elysées in 2013. The sound and videography are great in both cases. It's as close as you'll ever get to seeing what so excited and outraged audiences over a century ago.
"Sacre" was originally scheduled as the season closer in 2020, but the pandemic put that plan on hold. It will be good to finally hear Denève's approach to this remarkable piece at last.
The Essentials: Stéphane Denève returns to conduct Gabriela Lena Frank's "Apu," Bartók's Piano Concerto No. 3 (with soloist Piotr Anderszewski), and Stravinsky's "Le Sacre du Printemps." Performances are Saturday at 8 pm and Sunday at 3 pm, April 29 and 30. The Saturday performance will be broadcast live on St. Louis Public Radio and Classical 107.3.
Related Articles