Classical
Classical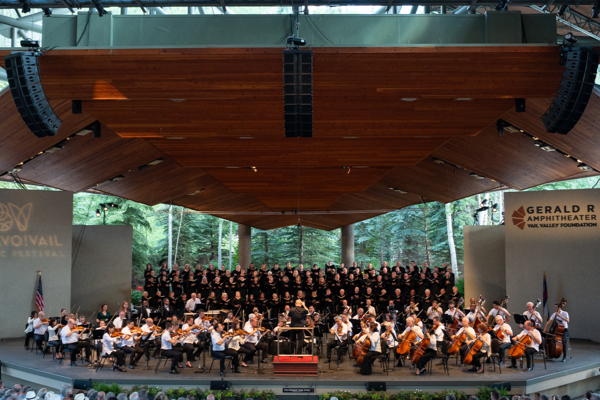 Bravo! Vail, Episode 4: These moments
By Chuck Lavazzi
By Chuck Lavazzi
[Being the fourth and last in a series of dispatches from the 2023 Bravo! Vail Music Festival, attended by yours truly as part of a delegation from the Music Critics Association of North America (MCANA)]
For the MCANA collective the final day at Bravo! Vail (Friday July 14th) began at 12:30 pm with a session with composer Anna Clyne, whose "This Moment" had its world premiere that night by the Philadelphia Orchestra conducted by Yannick Nézet-Séguin. Unofficial activities started much earlier as the early risers in our group (i.e., not me) decided to take the scenic gondola ride to the top of Vail Mountain. At a little over 10,000 ft. (a good 2K above Vail) both the air and the views are rarefied and well worth the ticket price, as I would discover later in the day. One of our number actually walked up (there are multiple hiking trails for the more adventurous), but then he's considerably younger than the rest of us.
Anna Clyne and Anne-Marie McDermott
Photo courtesy Bravo! Vail
In any case, we were all present and accounted for as we met with our official Vail PR contact (the priceless Managing Director of 8VA Music Consultancy Patricia Price, about whom I simply cannot say enough good things) for a brief but informative chat with Clyne.
Allow me to digress for a moment and state that I have been an admirer of Clyne's music since 2012, when I first heard her "Within Her Arms" performed by David Robertson and the St. Louis Symphony Orchestra with choreography by the Hubbard Street Dance Theatre of Chicago. At the time I described it as "somewhat mysterious music, which at times seemed to harken back to Vaughn Williams or even Thomas Tallis."
It was only later, as the SLSO began to perform Clyne's music more frequently under current Music Director Stéphane Denève, that I realized what I was actually hearing was what Clyne described in our session as "layering," a technique that involves combining instruments with contrasting timbres to achieve new and unusual sounds. "You might have an oboe playing a melody, but I'll double that with both vibraphone and low clarinet," she offered as an example. She's in good company: Ravel (among others) was known to do the same thing (several times in "Bolero," to pick an obvious example), although mostly as a "special effect" rather than a core compositional approach.
She put that to good use in "This Moment," which was composed with its status as a "curtain raiser" for the evening's performance of Mozart's Requiem in mind. The title was inspired by a quote from the late Zen master Thich Nhat Hanh, who died last year at the age of 95: "This moment is full of wonder" (a sentiment which takes on more meaning the older I become). There are also quotes from the "Requiem: one from the "Kyrie eleison" and one from the "Lacrimosa."
View from Vail Mountain
Photo by Chuck Lavazzi
That last one is especially poignant, since it was while dictating this movement to his pupil Franz Xaver Süssmayr that Mozart breathed his last. "And his life ended," writes Jane Glover in "Mozart's Women," on an unresolved dominant chord." Or, as Clyne said (paraphrasing Thich Nhat Hanh), "Yesterday's tears are tomorrow's rain".
The conversation then went on to other topics such as working with Nézet-Séguin ("He really understands the spirit of my music"), the ways in which earlier generations of women composers and conductors have paved the way for Clyne and others (she cited Marin Alsop as a mentor; both have a strong Chicago connection), and upcoming projects with The Augmented Orchestra and the New York-based boundary-smashing ensemble The Knights.
Her final takeaway for those attending the evening's concert? Approach new music with an open mind.
Which I did, but first it was time to play a bit of hooky and spend the rest of the afternoon hiking on Vail Mountain with my more outdoorsy wife, Sherry. She had gone up in the gondola the day before, spent a couple of hours climbing about, and came back enthusing about the gondola ride. Since this was our last day in town, I decided it was time to do something touristy, so up we went. At the top we grabbed a couple of hiking sticks courtesy of the Gondola One folks and spent the next hour or so accumulating "zone minutes" on our Fitbits.
I wore the wrong shoes, the wrong clothes, and brought a tote bag for our water bottles instead of the travel backpack I had packed specifically for excursions like this one, but it was worth it for the view.
L-R: Rosa Feloa, Jennifer Johnson Cano,
Issachah Savage, Kyle Ketelsen
Photo courtesy Bravo! Vail
A change of wardrobe, a light dinner, and it was off to the Ford Amphitheatre for our final concert: Clyne's "This Moment" and Mozart's Requiem  K. 626. True to her description of the work earlier that day, "This Moment" was the ideal opener for the Mozart. The quotes from the Requiem, while unmistakable, were also clearly delivered in Clyne's own unique language. There was lamentation and conflict in the music but also, in the final analysis, a comforting sense of peace. "This Moment" is, indeed, "full of wonders."
Then it was time for the Requiem itself.  It's usually heard in Süssmayr's completion—a choice which has not been without its critics over the years, including me. At least two other completions were done in the early 19th century and several musicologists have produced their own over the last four or five decades.
Nézet-Séguin opted for a 1971 edition by German violinist and musicologist Franz Beyer (1922–2018). Beyer used Süssmayr as a point of departure but cleaned up some of what Julliard's Robert Levin called Süssmayr's "infelicities" in the orchestration. "Franz Beyer took the Requiem to the dry cleaners and took the spots out," said Levin. "He made it more transparent and simplified it."
It had been a little over a year since I had seen a performance of the Mozart Requiem and that was in the more resonant environment of Powell Hall in St. Louis. The covered portion of the Ford has a markedly dryer sound, which makes instrumental details that much easier to hear, but it seemed to me that Beyer did, indeed, clarify the sound and, in his words, "color it with the hues of Mozart's own palette." The trombone solo in "Tuba mirum," for example, was as clear as I have ever heard it.
How much of that was the work of Beyer vs. Nézet-Séguin, the Philadelphians, and the Colorado Symphony Orchestra Chorus, I can't say, but this performance of the Requiem was certainly a stunner as far as I was concerned. It was dramatic, emotionally powerful, and just all-around compelling.
Choral director Duain Wolfe, Yannick
Nézet-Séguin, Philadelphia Orhcestra
and Colorado Symphony Orchestra Chorus 
Photo courtesy Bravo! Vail
For an amateur chorus, the CSO singers acquitted themselves extraordinarily well, even if they were (as a fellow critic pointed out) a bit shy in the tenor department. It helped that they were placed at the back of the orchestra on unusually high risers (the feet of the singers in the back row were literally above the heads of the those in the first) which enabled them to project with force and clarity. Vocal lines were impressively clear, even in fugal sections like the "Kyrie."
The solo quartet consisted of soprano Rosa Feloa, mezzo Jennifer Johnson Cano (who sang the Requiem in St. Louis last year), tenor Issachah Savage, and bass-baritone Kyle Ketelsen. They were placed on risers downstage right, just behind the violins, which provided useful sonic separation from both the chorus and the orchestra. All four singers were impressive vocally, with Cano and Ketelsen showing the most dramatic engagement with the text.
The band, of course, played with the consummate skill that I had come to expect from them over the last few days. For his part, Nézet-Séguin's substantial operatic experience was apparent in his ability to draw out the human drama in Mozart's music without compromising the religious sincerity behind it.
And so the musical side of our visit to Vail came to an end. Most of our group retired to the patio at La Cucina, one of the two restaurants at our hotel (the exceptionally comfortable Lodge at Vail), for snacks, drinks, post-concert discussions, and friendly farewells. Some of us knew each other from previous MCANA events while some of us were meeting for the first time. We all got to know each other better during the week and were all better for having done so.     
"The soil of our mind," wrote Thich Nhat Hanh,  "contains many seeds, positive and negative. We are the gardeners who identify, water, and cultivate the best seeds." Four days of Bravo! Vail left us with a packet of Music and Friendship seeds. They're always the best.
Related Articles