Theatre Reviews
Theatre Reviews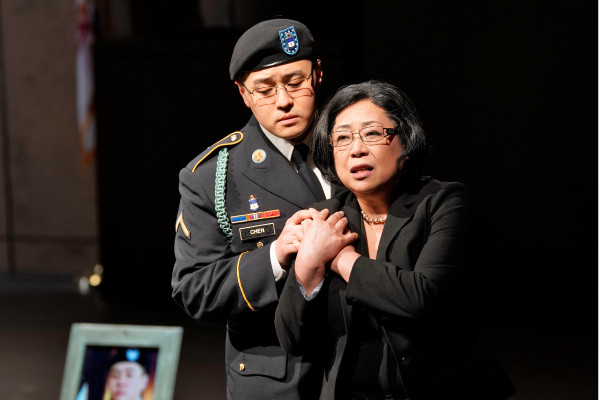 The Enemy Within: 'An American Soldier' at Opera Theatre
By Chuck Lavazzi
Last year, I began my review of Opera Theatre's production of Ricky Ian Gordon's "The Grapes of Wrath" by quoting a popular bumper sticker: "If you're not outraged, you're not paying attention." It's equally applicable to "An American Soldier," the two-act version of which is getting its world premiere at Opera Theatre this month.
Based, I'm sorry to say, on real events, "An American Soldier" (which began life as a one act in 2014) is the story of Danny Chen, a native-born American of Chinese descent who volunteered for the Army and was deployed to Kandahar province in Afghanistan, where he apparently committed suicide on October 3, 2011.
An investigation after his death revealed that Chen had been routinely singled out for racist harassment and even physical torture, including being dragged over sharp rocks by a commanding officer and stoned by fellow soldiers. The Army charged eight soldiers with an array of crimes, including negligent homicide, but only four were recommended for court-martial, and then only on a small number of lesser charges.
The fact that this occurred at all is appalling enough. The fact that it happened only a few years ago is downright depressing and more than a little disturbing.
The libretto of "An American Soldier," by noted playwright David Henry Hwang, sticks closely to the facts of the case, framing the action around the 2012 court-martial. Names of specific defendants and witnesses have been altered, but the details appear to be mostly true and are likely to incense anyone who still has a functioning sense of decency. The result is a literate and smartly written piece of documentary theatre that has a tremendous visceral impact, with credible characters and dialogue.
I'm less impressed with Huang Ro's score. It has, to my ears, a somewhat monotonous sameness and a restricted emotional palette. Vocal lines tend to be interchangeably declamatory, regardless of the emotional tone of the lyrics. A few scenes, largely in the second act, have real power, but on the whole I don't think Mr. Hwang's libretto is very well served.
Still, the production as a whole is a pretty gripping experience, partly because of that libretto and partly because of the fine performances by the large cast. There are far too many to list individually--16 singers, handling 22 named roles--so I'll concentrate on the principles and major supporting parts.
The robust tenor of Andrew Stenson supports a heartbreakingly sincere portrayal of Danny Chen, telling his tale in flashbacks from beyond the grave. He's very impressive in an emotionally and physically demanding role. Mezzo Mika Shigematsu is equally remarkable as Danny's mother, a part that also demands much and gets it in a performance of vocal and theatrical virtuosity. Both performers are making their OTSL debuts.
Also making an auspicious debut with the company is soprano Kathleen Kim as Josephine Young, Danny's high-school friend. Young is a fictional character whose email exchanges with Danny give us a window into the young soldier's hopes and dreams. Ms. Kim gives the role an appealing vulnerability and sings with genuine authority. Her second-act duet with Danny, in which the two reflect on how much they miss each other and on how different the moon is in their separate worlds, is one of the rare moments of beauty in the opera.
Bass-baritone Wayne Tigges is the sadistic Sgt. Aaron Marcum, a fictional composite of multiple abusive officers. A classic bully, Marcum compensates for his own feelings of weakness and inferiority by abusing those over whom he wields power. Mr. Tigges's powerfully sung performance makes the character's repellent evil chillingly real.
Bass Nathan Stark is an imposing presence as the presiding judge. Towards the end of the opera he leads a chorus of soldiers in "E pluribus unum," a hymn to the military's ideal of diversity. It's sung with beautiful clarity by Cary John Franklin's chorus and stands in ironic contrast to both the terrible chronicle of abuse that precedes it and the plaintive lament by Danny's mother that comes afterwards, and which ends the opera.
Matthew Ozawa, who directed a charmingly fanciful "Don Quichotte" at Lyric Opera of Chicago in 2016, proves to be equally deft with the gritty realism of "An American Soldier." Conductor Michael Christie, who has shown great skill and sensitivity in the past with everything from Puccini to John Adams, once again directs the orchestra of (mostly) St. Louis Symphony musicians in a persuasive performance of a score that employs a variety of non-traditional sounds.
Andrew Boyce's minimal set, with its turntable and platforms that quickly glide on and off, enables lightning-fast scene changes, assisted by Christopher Akerlind's lighting and Greg Emetaz's video projections. As always seems to be the case with Opera Theatre, the technical aspects of the show are first rate.
Like Marc Blitzstein's "Regina," an outstanding production of which is also part of the current OTSL season, "An American Soldier," forcefully reminds of us the gap that far too often exists between our nation's ideals and its realities. The jury is still out on whether or not we have the moral courage to narrow that gap.
Performances of "An American Soldier" continue through June 22nd, in rotating repertory with the rest of the OTSL season, at the Loretto-Hilton Center on the Webster University campus. It's an important new work and, my misgivings about the score aside, it deserves to be seen.
Related Articles