Theatre Reviews
Theatre Reviews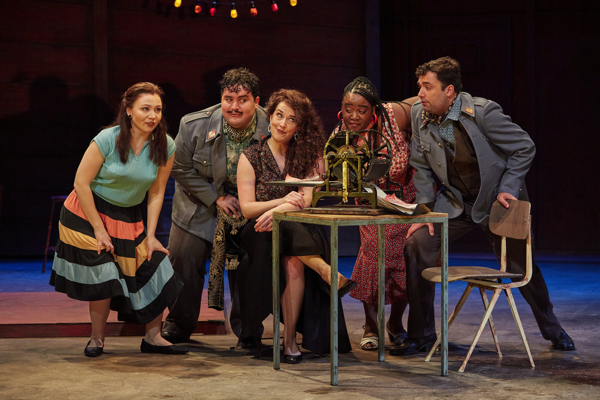 Opera Review: 'Carmen' through the looking-glass at Opera Theatre
By Chuck Lavazzi
On May 21st, Opera Theatre of St. Louis (OTSL) opened their 47th season with a polished if occasionally odd production of Bizet's 1875 tragedy "Carmen." It's the company's fourth production of a work that, according to Operabase, was the second most popular opera in the world in the 2021/2022 season, edged out only by Mozart's "The Magic Flute" (which also happens to be in the current OTSL season).
The cast of Carmen
Photo: Eric Woolsey
That is perhaps not surprising. "Carmen" has drama, it has some of Bizet's most memorable and therefore most popular melodies, and last—but most definitely not least—it has sensuality. When Carmen sings the famous "Habanera" while sinuously gyrating around Don José, there's not much room for doubt what everybody is thinking of when they're singing about l'amour.
The theatrical vitality of a production of "Carmen" has traditionally hinged, therefore, on whether or not the mezzo in the title role can convince the audience that she's so utterly irresistible that she can entice a straight arrow like Don José to abandon the military life and become an outlaw. At the same time, she needs to be independent minded and strong willed—a vamp with attitude.
Last seen on the OTSL stage as the tragically spurned Ottavia in "The Coronation of Poppea" in 2019, mezzo Sarah Mesko is a Carmen with attitude to spare. Decked out in biker-chic leather (and with a bike to match), Mesko's Carmen is one tough cookie. She's fearless, even in the face of an obviously deranged Don José in the final scene but not, on the whole, very seductive.
Chrisitan Pursell and Sarah Mesko
Photo: Eric Woolsey
That's not a knock on Mesko, though, who is clearly a skilled actress with a big, silky-smooth voice that's ideal for the role. It's just that Stage Director Rodula Gaitanou apparently wants the audience to see Carmen as a strong, free woman rather than as the morally depraved strumpet Bizet's librettists had in mind. Because this is not an old school "Carmen."
Transported from the mid-19th century to the mid 20th, this vision of "Carmen" turns the moral world of the original topsy-turvy. In the context of the original libretto the army is at worst morally neutral, and José's sense of duty is actually admirable. When the army in question is Franco's Guardia Civil, however, the equation changes drastically. In this context, José's sense of duty and his mother's determination to use home-town girlfriend Micaëla to bring him back to it are, at best, naïve if not actually delusional.
And then there are the smugglers. Under the direction of innkeeper Lillias Pastia and with the frequent assistance of Carmen and her cronies Frasquita and Mercédès, the original libretto paints them as grubby, serio-comic rascals getting contraband past the customs agents. Here, Gaitanou's direction turns them into freedom fighters, smuggling arms from across the border to avenge the deaths of their comrades at the hands of Franco's thugs.
Adam Smith in the "Flower Song"
Photo by Eric Woolsey
It all works surprisingly well, despite a few odd choices such as making Micaëla pregnant and having her show up with both José's baby and his mother in tow at the very end to gaze with horror on what her former lover has wrought. Yes, it's a revisionist "Carmen" and yes I normally have little patience with that sort of thing. But the revisions are internally consistent and appear to come from a creative rethinking of the original rather than a simple desire to do something different with no concern for whether or not that something actually makes any sense.
Just as importantly, it has a very strong cast. As Don José, Adam Smith deploys his lyrical tenor to great effect in the critical "Flower Song." It's an emotionally complex aria, running the gamut from rage to pathos, and Smith does it full justice. His wild-eyed madness in the fatal confrontation with Carmen in Act IV felt overdone at first, but it turned out to be the perfect prelude to the sheer brutality of his stabbing of Carmen.
As the toreador Escamillo, Carmen's saner and more realistic petit ami, bass-baritone Christian Pursell is the textbook picture of swaggering self-confidence, with a big, bold voice to match—as he demonstrated in the famous "Toreador's Song." Mezzo Jazmine Olwalia and soprano Shelén Hughes are a wicked delight as Mercédès and Frasquita. Soprano Yunet Laguna, in the thankless role of Micaëla, has a dark, full-bodied voice with the heft of a mezzo or contralto. Unfortunately, her elocution is far less clear than that of her fellow singers, making one thankful for the projected English text.
Adam Smith and Sarah Mesko
Photo: Eric Woolsey
The "Danse bohème" that opens Act II is enlivened by the sinuous and seductive performance of dancer Rachel Nelson. Indeed, the opera as a whole benefits considerably from the choreography of Rosa Mercedes, which often turns ordinary stage movement into elegant dances.
Under the direction of Kevin Miller, the OTSL chorus is a model of clarity and musical precision, often making the supertitles superfluous. Down in the pit, OTSL's new Principal Conductor Daniela Candillari leads members of the St. Louis Symphony Orchestra in a flawless, perfectly paced reading of Bizet's memorable score. I was particularly taken with the way she carefully built the "Danse bohème" to a rousing conclusion. Her conducting, as I have noted in the past, shows a fine combination of fire and attention to detail. It's good to have her on board.
Cordelia Chisholm's stark, dark sets and authentic period costumes are perfectly in tune with Gaitanou's concept of the opera, as is Christopher Akerlind's subdued lighting.
In a 2019 episode of WQXRs "Aria Code" podcast, host Rhiannon Giddens acknowledges that "Carmen" is "a complicated opera to perform these days." Don José's murder of Carmen is "ugly and goes against everything we're trying to be as a society." If we're going to continue to present works like this one, she argues, we need to "find new ways of seeing them and directing them so that they shine a light on not only where we have come from but where we are now—and how far we still need to go." Despite some fumbles along the way, OTSL's "Carmen" is an imaginative step in that direction.
Opera Theatre's "Carmen" continues in rotating repertory with three other operas through June 25th, 2022, at the Loretto-Hilton Center on the Webster University campus. The opera is sung in English (using a recent translation by the late Amanda Holden) with projected English text. For more information, visit the OTSL web site.
Related Articles