Cabaret
Cabaret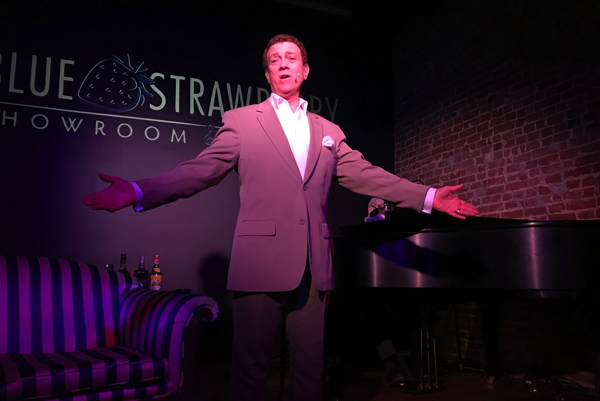 Review: Dean Christopher's Dean Martin tribute is still a kick in the head
By
When I reviewed Dean Christopher's Dean Martin tribute show, "Everybody Loves Somebody Some Time," at the Blue Strawberry last March, I described it as "rock-solid entertainment." Christopher brought it back to the Strawberry last Friday (September 24th) and, after seeing it again, I'm of no mind to change that assessment.
Dean Christopher as Dean Martin sings "Houston"
Photo by Chuck Lavazzi
The show was, for one thing, largely unchanged from last year. With one notable exception (see below) the song list was exactly the same. Christopher still has Martin's vocal quality and loose-limbed drunk act down pat. Pianist and music director Joe Dreyer is still the perfect musical and comic foil in his role as Kermit "Ken" Lane, who was the real Martin's pianist and music director on "The Dean Martin Show"—a fact which will surprise nobody who has seen Joe's own cabaret act with his wife Rosemary.
In short, everything about "Everybody Loves Somebody Some Time" that made it so much fun last March was still true this past Friday. So rather than repeat all praise I heaped on it back then, I'll just refer you back to that original review. Same songs, same great fun.
Instead, let's talk about what was different, focusing on that addition to the song list. The response from the audience, many of whom were clearly regular followers of Christopher's show, was enthusiastic as usual—so much so, in this case, that Christopher broke with tradition by performing an actual encore.
And not just any encore. It was the 1967 Bob Thiele (a.k.a. "George Douglas" and George David Weiss hit "What a Wonderful World." Unlike the rest of numbers in the evening, "What a Wonderful World" was never recorded by Dean Martin.  But it was an international hit for Louis Armstrong—the first of the four (count 'em, four) singers that Christopher impersonated with great success while singing it (the other three were Frank Sinatra, Sammy Davis Jr., and of course, Martin himself).
Dean Christopher and Joe Dreyer
Photo by Chuck Lavazzi
That was impressive enough. What made it even more so was the fact that the encore was entirely unplanned. Dreyer gave Christopher a good key (E-flat) and Christopher just took off with it while Dreyer improvised the accompaniment. Christopher does something similar in his "Rat Pack Christmas" show in which he sings "The Twelve Days of Christmas" as a dozen different Hollywood personalities, but that's scripted in advance. This was purely off the cuff, which is really rather amazing.
The only fly in the ointment was the wireless body mic the Strawberry had provided, which insisted on dropping in and out at random intervals during the evening. It's the sort of thing that will throw even the most seasoned performer off his stride and while Christopher coped with it gracefully (and in character, no less), it did cause the energy to drop at times while the sound tech tried, without much success, to fix the problem.
To quote a lyric from one of Martin's hits, "ain't that a hole in the boat?" Fortunately, the S.S. Dean Martin Christopher appears to be as unsinkable as Molly Brown and a fine time was had by all.
Dean Christopher returns to St. Louis this November and December at The Sheldon Concert Hall with his not-to-be-missed "Rat Pack" show; see his web site for details.
Cabaret, jazz, and other music events continue at The Blue Strawberry on North Boyle. Currently the club requires proof of vaccination and masking, except when eating or drinking, and tables are spaced far enough apart to inspire confidence. For more information, visit the Blue Strawberry web site.
Related Articles