Classical
Classical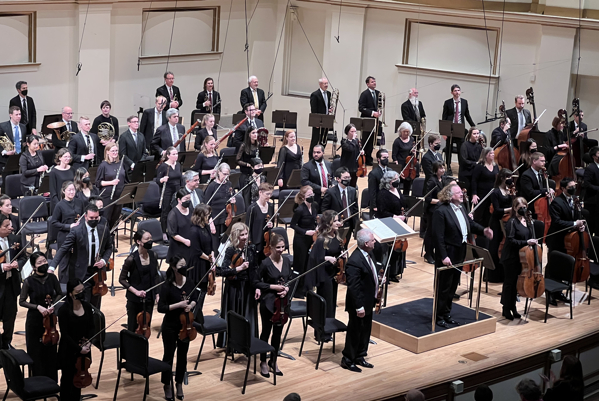 Symphony Review: Elegant Gershwin and persuasive Rachmaninoff highlight SLSO concert
By Chuck Lavazzi
In his comments from the podium at the beginning of the St. Louis Symphony Orchestra (SLSO) concert last Saturday (March 19), Music Director Stéphane Denève talked about the Zoom conference he had with composer James Lee III, whose tone poem "Chuphshah! Harriet's Drive to Canaan" opened the evening. Lee noted that this memorial to Harriet Tubman—the legendary abolitionist, suffragist, and creator of the Underground Railroad—is ultimately "about the freedom, love, and respect that any human deserves."
[Find out more about the music with my symphony preview.]

That's certainly a message that needs to be heard these days. That said, I'm not sure it really comes across in this dramatically charged but rather clangorous work. The opening section, which depicts Tubman's escape from slavery with an agitated four-note figure on the marimba, xylophones, and English horn is certainly attention grabbing in an action movie way, but it wears out its welcome rather quickly. The English horn also gets remarkably few solo passages, given its stated status as a musical protagonist. Overall, "Chuphshah! Harriet's Drive to Canaan" lacks the kind of emotional impact that was so apparent in Lee's 2018 "Emotive Transformations" in its SLSO premiere last November.
Still, Denève and the band did an outstanding job with it. Cally Banham's English horn sang beautifully and the percussion section displayed their versatility on everything from gong to glockenspiel. Like so many newer scores, "Chuphshah!" demands a lot from the orchestra, and it got it.
L-R: Stéphane Denève and Jean-Yves Thibaudet
Up next was Gershwin's Concerto in F, written in 1925. Coming just a year after the somewhat rough-hewn "Rhapsody in Blue," the concerto displays how Gershwin's development as a serious composer and orchestrator proceeded with supernatural rapidity. It's a beautifully crafted piece: lean, powerful, without a spare note.
Denève often describes Soloist Jean-Yves Thibaudet as "the most American of the French pianists," and his performance demonstrated the truth of that appellation. Although he and Denève sounded a bit out of synch at times during the first movement, Thibaudet nevertheless showed the same impressive technique that we heard last week in Saint-Saëns's "Egyptian" Concerto, especially in the dynamic third movement. He was also elegant and understated when necessary, most notable in the blues-infused second movement. It was a finely balanced combination of American drive and French élégance.
The same was true of Denève's interpretation. As is so often the case with his work, there were levels of finesse and subtle variations in tone and emphasis that added depth to the performance. The orchestra played with its customary perfection, including outstanding solos by Associate Principal Trumpet Tom Drake in the gritty and elegiac second movement and Principal Flute Andrea Kaplan in the Allegro Agitato finale.
The concert concluded with Rachmaninoff's Symphony No. 3 from 1936, when the composer was living in exile in Switzerland. Cut off from his Russian roots and taking up a form he had abandoned two decades earlier, Rachmaninoff produced a symphony of striking originality. His melancholy romanticism and melodic gift are there, but they are infused with an element of harmonic and structural modernism. The second movement, for example, embeds a spiky, almost-Prokofiev scherzo in the middle of a lyrical Adagio, and the symphony itself is cast in three movements rather than the traditional four. It's a work that constantly changes emotional gears, building to impressive climaxes that suddenly dissipate into lyrical rumination.
It is, in short, a symphony that requires a conductor with a deep understanding of Rachmaninoff's intentions and the ability to make them clear to the listener. Denève clearly has that understanding and ability, resulting in a very persuasive accounting of this rather neglected work that called to mind, at times, the composer's own 1939 recording with the Philadelphia Orchestra.
This being Rachmaninoff, there were many solo opportunities, and so we had fine individual performances by, among others, Principal Horn Roger Kaza, Principal Harp Allegra Lilly, Concertmaster David Halen and, in the final movement, Principal Flute Andrea Kaplan. The Symphony No. 3 is a bit more transparently scored than the composer's earlier works, which makes those little unaccompanied moments all the more important.
I doubt that Rachmaninoff's last symphony will ever be as popular as the first two. Its charms are a bit elusive and it demands more of the listener but is, in the final analysis, worth the effort.
Next at Powell Hall: The official season takes a break for some special events, with the regular season returning April 6-8:
All events take place at Powell Hall in Grand Center.
Related Articles