Classical
Classical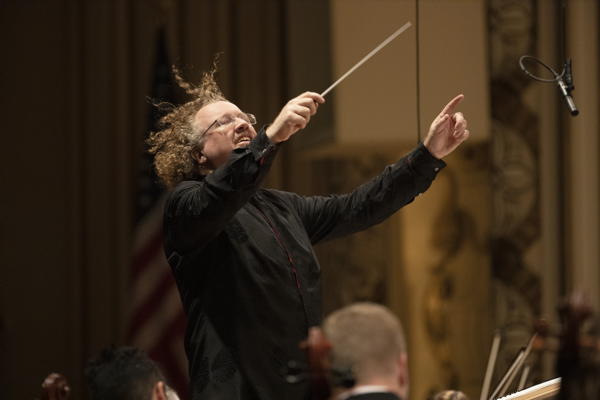 Symphony Review: To infinity and beyond with the SLSO
By
"To infinity and beyond!" With that wry nod to Buzz Lightyear, Music Director Stéphane Denève launched a St. Louis Symphony Orchestra concert last Friday night (November 18th) inspired by what Pythagoras called the "music of the spheres."  The night sky has fascinated human beings for as long as there have been human beings, and last weekend's program (repeated on Saturday and Sunday, the 19th and 20th) showed just how much variety that fascination can encompass.
[Find out more about the music with the KDHX symphony preview.]
Guillaume Connesson curtain call
The first half of the evening was taken up by three very different but equally appealing contemporary works, beginning with the world premiere of "Astéria" by contemporary (b. 1970) French composer Guillaume Connesson. Denève described it as music in which you can hear "not only the sound of falling stars but also how they sing." Which, in this case, means rapidly descending figures in the woodwinds accompanied by wave-like themes in the strings that call to mind Debussy's "La Mer."
The overall feel is that of a vast seascape with combined with a meteor shower. There's a sense of expansive acoustic space created by Connesson's inventive use of orchestral color. Denève, who is a great booster of Connesson, has said that his work "continues the great tradition of French music. It is full of rich harmonies and it is colourful, well-orchestrated music. I just love it."
Judging from the response, the audience loved both "Astéria" and its brilliant performance by Denève and the band.
"Astéria" is "big band" music (around 90 musicians Friday night) that contrasted neatly with the next work—"Primal Message" by contemporary American violist/composer Nokuthula Endo Ngwenyama (b. 1976). Scored for strings, harp, keyboard, and percussion, it's one of the more purely beautiful bits of new music I have heard recently. There are ravishing melodies for the cello and viola and an overall sense of nostalgia-tinged serenity.
As a showcase for the SLSO strings, it couldn't be beat. Principal Viola Beth Guterman Chu and Principal Cello Danny Lee gave eloquent voice to Ngwenyama's somewhat Celtic-sounding themes, and the sound of the full ensemble was entrancing. The piece ended with a bit of delicate filigree on celesta and harp (expertly done by Peter Henderson and Principal Harp Allegra Lilly, respectively) that was as evanescent as stardust.
James Lee III curtain call
The Big Band returned with "Sukkot Through Orion's Nebula" by American composer James Lee III (b.1975). It's a wildly colorful 10-minute tone poem about the Messiah descending to earth on Yom Kippur (The Day of Atonement) in a blaze of brass and percussion that prominently features the marimba, xylophone, vibraphone, and (inevitably) the bass drum. A calmer central section uses the celesta, harp, and winds to evoke the misty nebula before the resplendent return of the Son of God. I was reminded of Vachel Lindsay's famous poem "General William Booth Enters into Heaven" ("Booth led boldly with his big bass drum").
It's some pretty boisterous stuff which (somewhat paradoxically) demands discipline and polish from the musicians. That it emphatically got Friday night. A shout-out is due, in particular, to the quintet of musicians who handled the large percussion battery. That would be Shannon Wood on tympani and  his instruments and Will James, Alan Stewart, Kevin Ritenauer, and Edouard Beyens on everything else. Lee's score kept them hopping.
The evening concluded with "The Planets," Op. 32, by Gustav Holst (1874-1934). Last played by the SLSO in 2016 under David Robertson, Holst's suite is undoubtedly his greatest and probably his only hit. Denève and the band gave it a thrilling and yet subtle reading that brought out individual voices while retaining a strong sense of momentum.
Denève's interpretation of the first movement—"Mars, the Bringer of War"—was essentially a microcosm of everything he and the orchestra did that was so right. The tempo was brisk, creating the proper sense of mindless urgency, but dynamics were carefully modulated, and orchestral details were clearly articulated, so there was a sense that doom was merely being held back. When the first big orchestral crash came up, the impact was cataclysmic.  
"The Planets" curtain call
There was also a plethora of pristine renderings of the many wonderful instrumental solo bits that Holst's score provides in abundance. That includes (but, as usual, is not limited to) Principal Horn Roger Kaza's delicate opening solo in "Venus, the Bringer of Peace" as well rest of his section in "Jupiter, the Bringer of Jollity"; the quicksilver woodwinds, Allegra Lilly and Megan Stout's harps, and Peter Henderson's celesta in "Mercury, the Winged Messenger"; Phil Ross's mournful bass oboe in "Saturn, the Bringer of Old Age"; the bassoons under Andrew Cuneo, musically thumbing their noses at the pretentions of "Uranus, the Magician;" and multiple appearances by Concertmaster David Halen and Principal Oboe Jelena Dirks.
And then there were the final moments of "Neptune, the Mystic." The score calls for a wordless women's chorus "to be placed in an adjoining room, the door of which is to be left open until the last bar of the piece, when it is to be slowly and silently closed." The final bar of the music, for voices alone, is "to be repeated until the sound is lost in the distance." Denève achieved that by (as far as I can tell) placing the singers on the orchestra level in back of the audience—presumably in the lobby if he was following Holst's instructions.
Wherever they were, it worked. Seemingly coming from everywhere and nowhere (although probably from the main lobby), the voices faded so imperceptibly that it was hard to tell when they stopped singing. In my mind, they still are.
Next at Powell Hall: Conductor Xian Zhang and pianist George Li make their St. Louis Symphony Orchestra debuts performing the overture to Rossini's opera "L'Italiana in Algeri," Rachmaninoff's "Rhapsody on a Theme of Paganini," and Respighi's "Fountains of Rome" and "Pines of Rome". Performances are Saturday at 8 pm and Sunday at 3 pm, October 26 and 27. The Saturday concert will be broadcast live on St. Louis Public Radio and Classic 107.3.
Related Articles