Theatre Reviews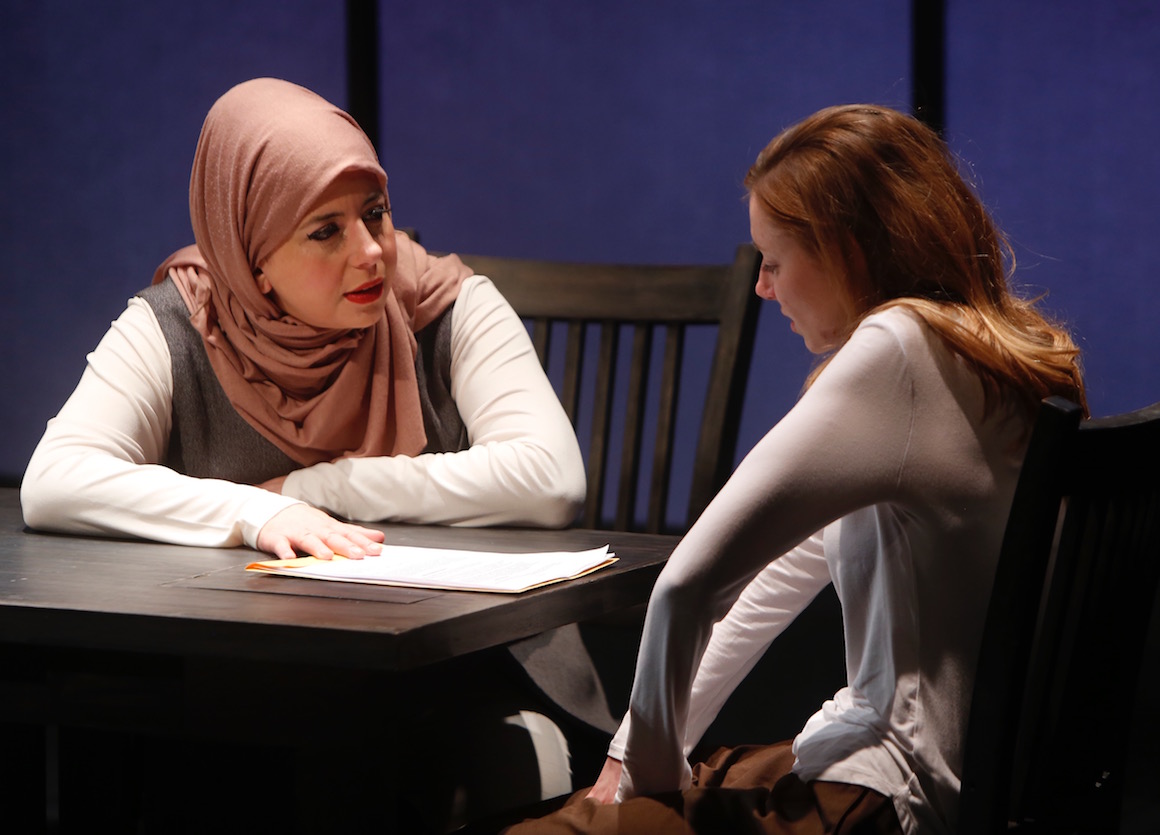 In Performance: The Repertory Theatre St. Louis presents the complex and provocative 'Faceless' in its Studio Theatre
This week's In Performance introduces you to Faceless, an intriguing play where a woman of a targeted culture prosecutes a young woman radicalized online. The story begins with the premise of conflict and the actors dig in deeper, each representing a "side" from multiple perspectives. Any stand they take has immediate repercussions.
Faceless introduces audiences to Susie Glen, an 18-year-old on trial for joining ISIS and planning terrorist attacks after her online recruitment. Claire Fathi, a Harvard-educated, practicing Muslim, represents the prosecution and she has a very different understanding of the religion Susie now professes to follow. Though set in a courtroom, the show isn't a melodrama in the lines of popular television franchises so much as a compelling exploration.
Author Selina Fellinger was inspired by a news event, a young American woman was recruited by ISIS over an 18-month period and turned in to the FBI after her father found a suspicious boarding pass. The story provided Fellinger with so many questions to explore. Rational, tactical questions like how could this happen, and why? But also, questions about faith and loneliness, the very human need for community and forgiveness. Director BJ Jones found the story compelling and after a conversation with the playwright he quickly agreed to direct.
The layered show is a deeply personal look at a very real movement that's grounded in faith and, as importantly, the expression of faith. "Susie is incredibly lost and confused and really vulnerable," explains actress Lindsay Stock. "Her mother has just died. The one thing that she can hold onto is the faith that she has found." But, until she meets the prosecutor, she doesn't know what a true Muslim looks like. Claire Fahti, however, has doubts about taking the case. "At first she doesn't want to be seen as the token Muslim in the room," actress Susaan Jamshidi explains. "But then she sees how she can make a difference… How she can show the world what a modern Muslim woman is." You can see the probing and thoughtful Faceless in the Studio Theatre at the Repertory Theatre of St. Louis through February 4.
The Fabulous Fox Theatre presents Andrew Lloyd Weber's high-voltage musical The School of Rock, in performance through January 28. The teen-spirit filled musical features some truly prodigious kids who steal the show, and your heart, with raucous, unfettered enthusiasm. Even the back-story is a feel-good tale as Weber's delightful rock musical was created to honor his kid's favorite movie and its fabulous anti-hero with a heart, Jack Black.
Continuing this weekend:
JPEK CreativeWorks Theatre announces additional performances of Jeff Stetson's The Meeting. The thought provoking period drama imagines an historic meeting between two of the most important figures of the Civil Rights Era, Malcolm X and Dr. Martin Luther King, Jr., will run at the .Zack February 23 and 24.
Cocktails and Curtain Calls In the Shadow of the Glen, continues in the Patriot Room of John D. McGurk's Pub in Soulard through January 21. The story, influenced by Ibsen's A Doll's House, introduces a man convinced his wife is cheating who fakes his own death to try to catch her.
The Repertory Theatre of St. Louis continues its production of The Marvelous Wonderettes through January 28. The jukebox musical is a fond look at friendship that celebrates the girl bands and pop hits of rock and roll's early years. The Rep's talented cast and band are completely in-sync, creating a "wall of sound" that's certain to entertain.
The Black Rep presents August Wilson's perceptive and heart wrenching Fences through January 21. The sixth play in Wilson's "Pittsburgh Cycle," Fences, won the 1987 Pulitzer Prize for Drama and a Tony Award for Best Play. The evocative show makes a powerful statement on race in America, but may be best remembered for its depth and sincerity, ensuring it's a show not to be missed.
Menopause the Musical continues at the Playhouse @ Westport Plaza through March 31. Set in a swanky department store where four women meet while fighting over a bra during a lingerie sale, the catchy musical comically addresses "the change of life" while encouraging feminine positivity and support.
To make sure you don't miss an event of note, don't forget to check out the KDHX Calendars for a listing of community art, music, and performance events.
Related Articles