Classical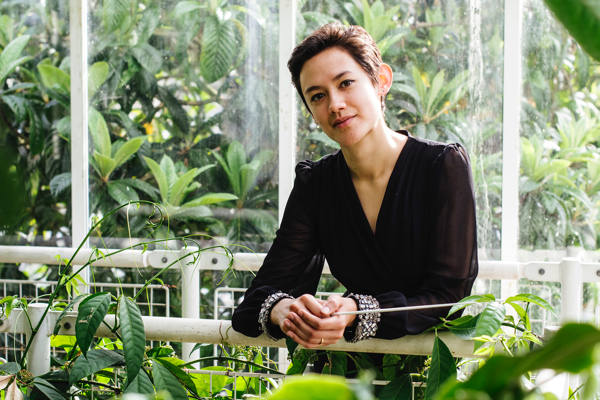 Symphony Review: Pratt and Childress conquer new worlds at Powell Hall
Written by

Chuck Lavazzi
London Symphony violinist Hugh Bean once suggested that conducting "is the strongest evidence I've yet seen that telepathy, in one form or another, exists." When I first saw St. Louis Symphony Orchestra (SLSO) AssistantConductor Stephanie Childress on the podium last year, I was inclined to agree.  Seeing her conduct an eclectic mix of works by Sebelius, Dvořák, and contemporary American composer Jessie Montgomery this past Friday (April 8), I see no reason to revise that opinion.
[Find out more about the music with my symphony preview.]

Childress opened the concert with a powerfully atmospheric reading of the 1907 revision of Sibelius's 1893 tone poem "En Saga." The title and the music itself both suggest a narrative thread, but Sibelius would later write that "En Saga" was an intensely personal work that was "the expression of a state of mind" with no "literary explanations." Even so, it's impossible not to hear the composer's love of his native Finland's forests and its striking (if forbidding) landscapes in this highly dramatic work. The tremolos and arpeggios that suggest brisk northern winds were given vivid life by the SLSO strings, and the oboes, bassoons, and clarinets gave a sharp bite to the melancholy folk-like tune that accompanies them in the opening measures. The violas lent a dark beauty to their featured role early in the work and the keening clarinet solo that brings "En Saga" to its hushed conclusion was expertly done by Tzuying Huang.
L-R: Jessie Montgomery, Awadagin Pratt,
Stephanie Childress
Up next was Montgomery's "Rounds for Piano and Strings," a co-commission by the SLSO, the Art of the Piano Foundation (for Awadagin Pratt, who was the soloist last weekend), and eight other American orchestras. Inspired by T. S. Eliot's poem "Four Quartets," the work a relatively complex musical structure. "I set the form of the work as a rondo, within a rondo, within a rondo," writes Montgomery. "The five major sections are a rondo; section "A" is also a rondo in itself; and the cadenza – which is partially improvised by the soloist – breaks the pattern, yet, contains within it, the overall form of the work."
You'd think that would make for thorny listening, but Montgomery is too skilled a composer for that. That "A" section has a sound all its own, with flashing arpeggios bracketing a section characterized by big "power chords." It's clearly different from the music of the more contemplative second section or the dance-like fourth. And all of them are different from the wild and showy cadenza, which includes unusual techniques like plucking the piano strings with the sustaining pedal held down—an eerie and unexpected effect. Overall, "Rounds" is a fascinating and even fun work that will surely have a life after its premiere performances.
Given that "Rounds" was written for, and with input from, Pratt, it's not surprising that he played it with an impressive mix of technique and poetry. His performance of that finger-busting cadenza, in particular, was a genuine barn burner. He got a quick and enthusiastic standing ovation from the Friday night crowd—an ovation for which the composer was on hand to share.
The concert closed with a dynamic and nuanced Dvořák Symphony No. 9 ("From the New World"). Conducting without a score, Childress delivered a Ninth that, for sheer brilliance, belongs up there with the SLSOs last performance in 2017 with David Robertson. I called that one "world class." So was this.
There were so many wonderful moments in this "New World" that I simply couldn't make notes on all of them and still revel in the sheer joy of the music. For example, the slower tempo and touch of rubato in the lyrical second theme of the first movement (the one that sounds like "Swing Low, Sweet Chariot") was a nice touch. Cally Banham's performance of the famous cor Anglias solo in the second movement was a perfect match for the sense of homesickness that lies behind the movement's tranquility. The scherzo had fierce, fast energy. And the final movement crackled with drama.
Stephanie Childress and the SLSO
To quote a Noël Coward lyric, I couldn't have liked it more. In her pre-concert remarks, Childress noted that Dvořák's Ninth is "as triumphant as it is melancholic," and is therefore an apt metaphor for our times. It was a perceptive observation, and her interpretation reflected it.
The SLSO has a notable track record when it comes to picking Assistant Conductors who then go on to important careers: Ward Stare and Gemma New come immediately to mind. If tonight was any indication, Childress is on a similar course. She has excellent rapport with the musicians, a deep understanding of the structure of the works she conducts, and she knows how to use silence as a musical element—even if, as was the case with the end of the "New World," the audience didn't quite cooperate.
Next at Powell Hall: Ron Spigelman conducts the orchestra in a performance of the score for "Harry Potter and the Deathly Hallows, Part 1" as the film is shown on the big screen. Performances are Friday at 7 pm and Saturday at 2 and 7 pm, April 15 and 16. The regular season returns April 22 and 23, with a program of works by Ginastera, Prokofiev, and Azerbaijani composer/pianist Franghiz Ali-Zadeh.
Related Articles