Theatre Reviews
Theatre Reviews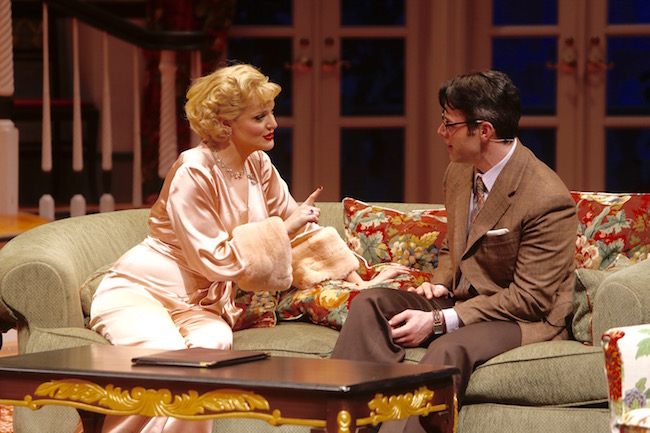 In Performance: There's plenty of suspense and drama on stage, so get over your bracket-busted blues with a play
By
There's lots of great theater to be found in and around the St. Louis area this weekend, with the Grand Center Arts District a particularly busy part of town. From uplifting, upbeat musicals and tales of faith and love to a disturbingly close look at the repercussions of illegal waste dumping, stories abound in the theaters. Your bracket might already be busted, so give yourself something to smile about and go see a play.
The Repertory Theatre of St. Louis presents "Born Yesterday," a play written just after World War II that resonates with current relevance. Shady businessman Harry Brock travels to Washington, D.C., determined to buy the favor of several senators and congressmen so he can craft laws that increase his wealth and status. Showgirl Billie Dawn, a woman with wealth of her own and more brains and empathy than Brock realizes, accompanies him to Washington.
Brock looks down on Dawn, and fears her outrageous behavior will embarrass him, so he pawns the girl off on a local reporter, asking him to add a little polish to her rough edges. The decision is among the worst the greedy Brock will ever make, with consequences he never saw coming. Add in a little romance and more than an ounce of social awareness, and the show becomes even more relevant and entertaining. "Born Yesterday," which continues through April 8 at The Rep, hurls towards unexpected conflict as Dawn finds her voice and the backbone to stand up to the disingenuous business tycoon.
Tesseract Theatre continues their fifth full season with a production of "Purple Heart City," written by company artistic director Taylor Gruenloh. The play dramatizes the very real health effects of living near polluted land and contaminated creeks. Gruenloh is personally familiar with the subject matter, having close knowledge of the after-effects of illegal radioactive storage in north St. Louis County.
In the play, prodigal son Daniel returns after a lengthy absence and is as shocked by the change in his community as he is surprised by his family's chilly reception. The community has been battling for years to have an illegal toxic site cleaned up, but they are tired; both the fight and radioactive waste have taken a heavy toll. Daniel must try to repair his fractured family relationships while also finding the strength to fight for his community.
"This play is about what's happening right now, in our own community," Gruenloh notes. "And it's not just the physical effects, the illnesses and contamination, that make a compelling story, but also the psychological effects. I have family and people I know who are directly affected by the West Lake Landfill," he continues. "I want to tell their story because it needs to be shared. I know other people, in other communities dealing with the same or a similar issue, need to hear it as well." Tesseract Theatre's production of "Purple Heart City" runs through March 25.
Issues of faith and social justice are at the heart of Mustard Seed Theatre's mission and, whether they produce big musicals, pointed comedy or thoughtfully intimate explorations on belief, their plays always reflect these themes. "As It Is In Heaven" introduces audiences to the devout Shaker women living and working in accordance with their faith on a small farm in Kentucky. New recruits shake the peaceful community from its complacency by claiming to see and receive messages from angels.
The powerful show may provide an introduction to the Shakers, who are known for gender-segregated communal living and services featuring singing, dancing and shaking, the latter two perceived as gifts from heaven. As the play deftly explores expressions of faith, strict adherence to the rules of the closed community is shown to both benefit and hinder its individual members. Mustard Seed Theatre presents the quietly affecting "As It Is In Heaven," by Arlene Hutton, directed by company founder and artistic director Deanna Jent, through March 31.
The Fabulous Fox Theatre welcomes the touring production of the Tony-award winning musical revival "The Color Purple" to St. Louis, beginning Monday, March 20 and continuing through April 1. The beloved story of one woman's journey from heartache to love, and from near death to survival and more, is artfully re-imagined in a heartwarming musical. The show is generally family-friendly and, though younger and more sensitive audience members may find some scenes troubling, a triumph of spirit and a celebration of love.
Continuing this weekend:
Christopher Chen's "Caught" continues through March 25 at The Repertory Theatre of St. Louis. The intriguing puzzle box of a play introduces audiences to the work of a Chinese dissident and artist named Lin Bo, then immediately begins challenging our notions of truth and fiction with equal force. After time viewing the artist's work, the lights dim and the play, filled with deliberate questions and reversals, begins.
Insight Theatre Company's production of Joe DiPietro's "The Last Romance" continues through March 18. St. Louis veteran actor Joneal Joplin is Ralph, a mature gentleman who loves life, opera and sticking to his habits. He's been happily living with his sister since the death of his wife years ago, but one day he shakes things up – taking his daily walk in the afternoon and choosing a new route that just might lead to love.
New Line Theater turns the tables on musicals as usual with a decidedly adult and slightly sinister take on Cole Porter's whip-smart musical "Anything Goes," continuing through March 24. Set among the wealthy elite of the 1930s, the show skewers our obsession with celebrity, wealth and religious hyperbole in a way that holds true nearly a century after its debut.
Menopause the Musical continues at the Playhouse @ Westport Plaza through March 31. Set in a swanky department store where four women meet while fighting over a bra during a lingerie sale, the catchy musical comically addresses "the change of life" while encouraging feminine positivity and support.
To make sure you don't miss an event of note, don't forget to check out the KDHX Calendars for a listing of community art, music, and performance events.
Related Articles