Theatre Reviews
Theatre Reviews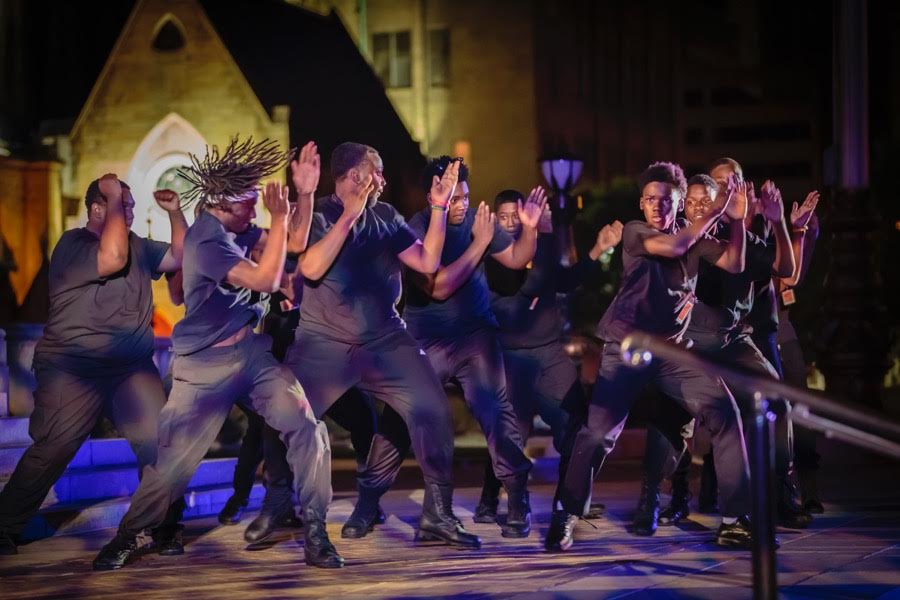 In Performance: This is Your Weekend to 'Shake the Streets' and Check Out St. Louis' Many Live Theater Performances
By
Once again this weekend, St. Louis audiences have the opportunity to select from a wide variety of shows for their theater viewing. From big, bold musicals to intense drama, heartbreaking tragedy, and laugh out loud comedy based on your favorite dragon-enhanced show, the only thing you're likely not to find in a St. Louis venue this weekend is free pie. You are invited to bring your own pie, and picnic basket of goodies, to enjoy at one of two free outdoor productions!
After a lengthy delay, St. Louis theatergoers are finally getting the chance to see the Shake the Streets production of "Blow Winds" from the Shakespeare Festival St. Louis. Seeking comfort and rest for his remaining years, an aging king gathers his children together to parse out his kingdom. Swayed by pride and vanity, he foolishly favors the wrong children and soon finds himself cast out of his own home.
Based on Shakespeare's "King Lear," the story arc and characters are tragic and familiar. The location and musical references are also easily recognizable, but these elements are from distinctly different times and hemispheres. They've been mixed together to tell a story that is at once universal and uniquely St. Louis. Composer and music director Lamar Harris is enthusiastic about the play, developed by Nancy Bell, members of the festival's creative staff, and the residents of multiple neighborhoods throughout the city. "The story is a beautiful, captivating look at our city through the eyes of this classic play," Harris notes. "There's so much to discuss and unpack when we view how the king divides the neighborhoods among his children through the lens of our history."
In Shakespeare's original, the aging King Lear has decided to split his property among his three daughters, Goneril, Regan and Cordelia, and asks each daughter to profess her love for her father before determining how parse out the land. Two of the daughters lavish their father with false flattery, the third is more genuine and honest, and the vain king is swayed by the praise. All too soon, he learns his mistake and is driven out of his own home by his greedy offspring and their husbands. Accompanied only by his Fool and a loyal servant in disguise, Lear is left to wander aimlessly. Though eventually guided to the home of his truly loving daughter, the reunion may be too late to save the kingdom.
As a composer and musician, Harris has created a score that guides the audience through the twisted tragedy. "As in a movie, each element works in concert with the others to tell a fuller, more connected story," he enthuses. "Everything is intertwined, from Margery and Peter Spack's design to Charlie Johnson's choreography, to the Baptist Choir and The Gentlemen of Vision who joined in on the development of the music, to Bell and team's inventive script, to the actors and Tom Martin's direction." The quick-paced production condenses and enhances Lear's story into an entertaining and perhaps thought-provoking play.
"The challenge for me, as a musician," Harris explains, "is to help people to focus and pay attention – to help them relate to the story on many levels. One of the ways we do that is by referencing the many musical genres that have deep St. Louis ties and roots. But," he concludes with a slight smile, "just as Lear made some unusual decisions, we've mixed up the musical landscape a little, hopefully helping to remind us all that we are still one city, one region." As Harris speaks his face lights up and it's suddenly easy to see how the story of sister's Goneril, Regan, and Cordelia can be a contemporary tale about St. Louis.
The Shakespeare Festival St. Louis production of "Blow Winds" runs for two nights only, at 8 pm July 15 and 16, on the steps of the St. Louis Public Library. Admission is free and the entertaining show is quick and visually stunning, using the library front as a large projection screen and incorporating multiple music and dance elements.

Those zany adapters at the Magic Smoking Monkey Theatre are at it again, presenting "'Game of Thrones' seasons 2 – 4: Four Weddings and a S#!t-Ton of Funerals," their second laugh filled parody of the popular show. Intended for mature audiences, the show is undoubtedly stuffed with hilarious pop references and continues Fridays and Saturdays at 8 pm and 10:30 pm, through June 23.
Tuesday, June 19 through June 25, musical fans can "ease on down the road" to the Muny for "The Wiz," the upbeat retelling of "The Wizard of Oz" that re-imagined the beloved story for a new generation. Dorothy is still trying to get back home, and she still needs the help of her newfound friends and the good witch to do so, in a peppy and positive story with a little something for everyone. The family friendly show is a feel good mix of gospel, soul, and pop rock music that is sure to entertain.
STAGES St. Louis continues its summer season with "Madagascar, A Musical Adventure," June 19 – July 1. The children's musical, based on the hit animated movie, takes audiences on an adventure filled journey from the zoo to a tropical island. Families with young children will want to "move it, move it," the funny musical tale.
Continuing this weekend:
The emotional and compelling "Hedda Gabler," running through June 23 at Stray Dog Theatre, deftly presents the external manifestation of one woman's internal and struggle to be seen as an independent human being. Dissatisfied with her life as a wife and potential mother, Hedda resolves her conflict through a series of increasingly dangerous manipulations.
STAGES St. Louis musical tribute to love and marriage, "I Do, I Do,' continues through July 1. The musical features two rotating casts, with Corinne Melançon and Steve Isom in one cast and Kari Ely and David Schmittou in the other. From the wedding night to their children's weddings and beyond, the two casts differently, but agreeably, sing the highlights and lowlights of a 50-year marriage.
Slightly Askew Theatre Ensemble presents "Run On Sentence," continuing through June 17. The first professional production of the play, commissioned by Prison Performing Arts and featuring the experiences of incarcerated women, is powerful and well connected. Mel and her cellmates find their "normal" turned upside down when Mary, a new inmate arrives. The women are individually and collectively compelling and the show is thoughtful and sometimes painfully honest.
Act, Inc. presents Noel Coward's "Blithe Spirit" on the campus of Lindenwood University through June 24. The lively and humorous play, directed by Jane Sullivan, promises plenty of laughs. The witty comedy introduces audiences to Charles Condomine, an erudite socialite who hires a medium to conduct a séance for him, inadvertently inviting the pesky ghost of his first wife for a visit.
All four shows of Opera Theater of St. Louis' 2018 season, "Orfeo and Euridice," "An American Soldier," "La Traviata" and "Regina," have now opened and continue in rotation through June 24. The shows span a wide range of subjects and eras, but each is evocative and filled with stirring music.
The familiar tale of "Romeo and Juliet" is given a contemporary look and feel while remaining true to the original story in this year's Shakespeare Festival St. Louis production in Forest Park, continuing through June 24.
For something completely different, check out New Line Theatre's premier production of "Yeast Nation." The musical comedy, set on the floor of the ocean three-billion years ago and continuing through June 23, explores the very first lives on our planet – salt-eating yeasts.
Luche Libre and girl power take center stage in "Luchadora," a collaborative show produced by Mustard Seed Theatre Company with Theatre Nuevo. The play introduces audiences to Lupita, a young girl immersed in Lucha Libre wrestling and looking to understand her culture and place in the world. Directed by Anna Skidis, the family-friendly show continues through June 17.
And remember, there's always much more art and culture happening in St. Louis than one reviewer can cover, so visit the KDHX Calendars for a complete listing of theater, performance, music, gallery exhibits and much more.
Related Articles